On the Bookcase with Dr Joan Cartwright
19th September 2022
#womeninjazzmedia
#onthebookcase
#podcast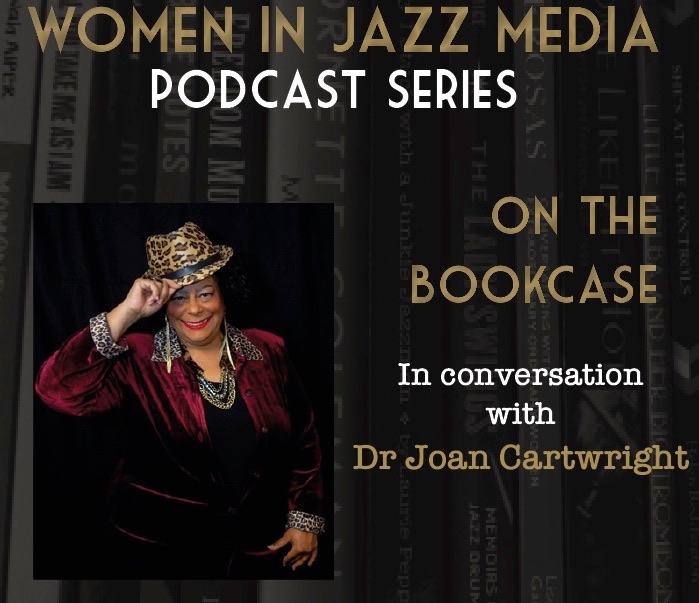 Welcome to the seventh episode in our podcast series 'On The Bookcase', featuring female authors from across the world, with host Fiona Ross, with original music from Hannah Horton. You can find our podcasts in the top at number 14 in the 60 Best Jazz Podcasts in FeedSpot! 
In this episode we welcome Dr Joan Cartwright. Available on all platforms here
Born in Queens, NY, Dr Joan Cartwright is a poet, musician, composer, author, and historian. In addition to CDs, Cartwright is the author of 11 books including GaiaMind Poems, and the Joan Cartwright Song Book submitted to the Guinness Book of Records for designation as the "First woman in the world with a jazz and blues songbook." Her essays, articles, and interviews have been published locally and internationally online, in magazines, journals, anthologies, and newspapers. In 2007, Joan founded Women in Jazz South Florida, Inc. to promote women musicians, globally. She is a Doctor of Business Administration/Marketing and a Professor of Speech Communications
She conducted workshops at United Cerebral Palsy facilities, Broward Schools and Libraries in South Florida. In New York, she presented Amazing Musicwomen at York College and Langston Hughes Library and was a guest of the International Women in Jazz Festival in 2008. In 2010, she performed in Kingston, Jamaica, for the U.S. Embassy at Blues on the Green. In 2013, her Amazing Musicwomen Ensemble performed at the Sunrise Civic Center and Biennes Center for the Arts in Fort Lauderdale. In 2014, she performed and presented a workshop for the Grand Bahama Performing Arts Society in Freeport, Grand Bahamas. Also, in 2014, Joan's quartet was featured at Jazz on 4, on the Allure of the Seas of Royal Caribbean Cruises. Joan is an ASCAP publisher and songwriter, and a member of Women in Music, in New York. Her organization WIJSF is an International Honor Committee member of Fondazione Adkins Chiti: Donne in Musica in Rome, Italy, and Women in Music Serbia.
During her 40-year career, Joan performed with Jazz giants Lou Donaldson, Dr. Lonnie Smith, Freddie Hubbard, Dorothy Donegan, Philly Joe Jones, Shirley Scott, Trudy Pitts, Carline Ray, Paula Hampton, Bertha Hope, Kim Clarke, Giovanni Mazzarino, and hundreds of musicians in the U.S., Caribbean, Europe, and Asia!