Sticks and Thrones with Migdalia Van Der Hoven and Abbie Finn
19th January 2023
#sticksandthrones
#podcast
#drummers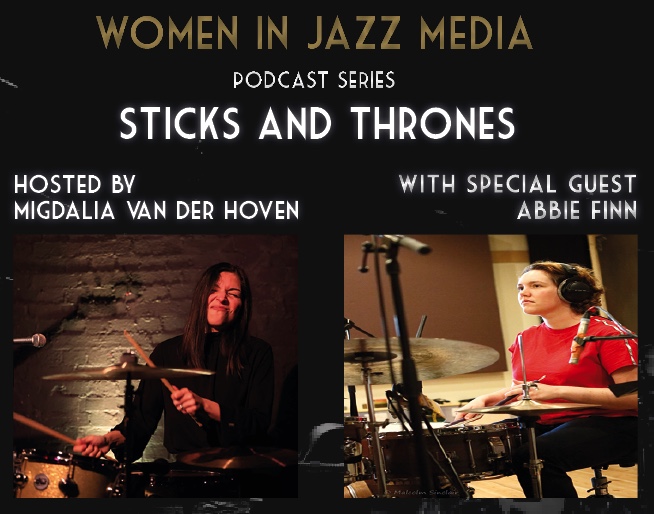 Welcome to the second episode of our new drummer focused series 'Sticks and Thrones' with host Migdalia Van Der Hoven, with our guest Abbie Finn. Our podcasts are available on all platforms and are currently at number 9 in the top 60 best Jazz podcast on FeedSpot featuring original music from Migdalia Van Der Hoven available here
Migdalia van der Hoven is an International Award winning Mexican drummer currently touring with SIX the Musical across the UK. She is also a Vater Drumsticks, Bosphorus Cymbals and RTOM Corporation artist and a Berklee College of Music graduate (where she studied and performed with Jackie Santos, Terri Lynn Carrington, Victor Mendoza and Mark Walker). She is known for her groove, sensitivity and versatility across multiple genres such as funk, jazz, fusion, latin jazz, pop and world music. She became the first Mexican Female drummer to ever perform at Ronnie Scott's and the EFG London Jazz Festival. Migdalia has become "Woman of the year 2022" in Mexico in arts and culture for her contribution in music nationally and internationally.
Abbie Finn is a musician from the North-East of England, currently based in Brandon, County Durham, who has over 16 years performance experience*.* Abbie studied Jazz drums under Sebastiaan De Krom at Leeds College of Music, gaining a 1st Class Degree with honours. She then received a Master's degree from Trinity Laban Conservatoire of Music and Dance in London, studying with Gene Calderazzo and Asaf Sirkis. In 2018 she was given the opportunity to play Percussion with the WOW (Women of the World) Orchestra at the Royal Festival Hall in London as part of a festival of women.
Abbie was a dep for the National Youth Jazz Orchestra and also played with the NYJO Academy big band, The Trinity Composer's Big Band, Kinesis: A Drum and Sax duo with Harry Keeble, The NYJO Quintet, The Jazztones, Paul Edis Trio, Durham Alumni Big Band, Strictly Smokin' Big band and more. She has had the pleasure of working with artists such as: NYJO (National Youth Jazz Orchestra), Simon Spillett, Paul Edis, Andrea Vicari, Derek Nash, Oli Hayhurst, Dean Stockdale, Sue Ferris, Graham Hardy, Paul Grainger, Andy Champion, Zoe Gilby, Mark Williams, Harry Keeble, Michael Lamb, Alice Grace, Ruth Lambert, Bradley Johnson, The Strictly Smokin' Big Band, NYJO Ambassadors, NYJO academy big band, Musicians unlimited big band, Durham Alumni big band, Customs House big band, Ray Beckett and more.
Abbie's current main projects are the Abbie Finn Trio with Harry Keeble on tenor saxophone and Paul Grainger on double bass and the Finntet - a hardbop band featuring Graham Hardy, Harry Keeble, Dean Stockdale and Paul Grainger. She also frequently performs with the Harry Keeble Quartet, the Dean Stockdale Trio and many more.