Kim Cypher
Saxophonist, composer, singer, writer and radio host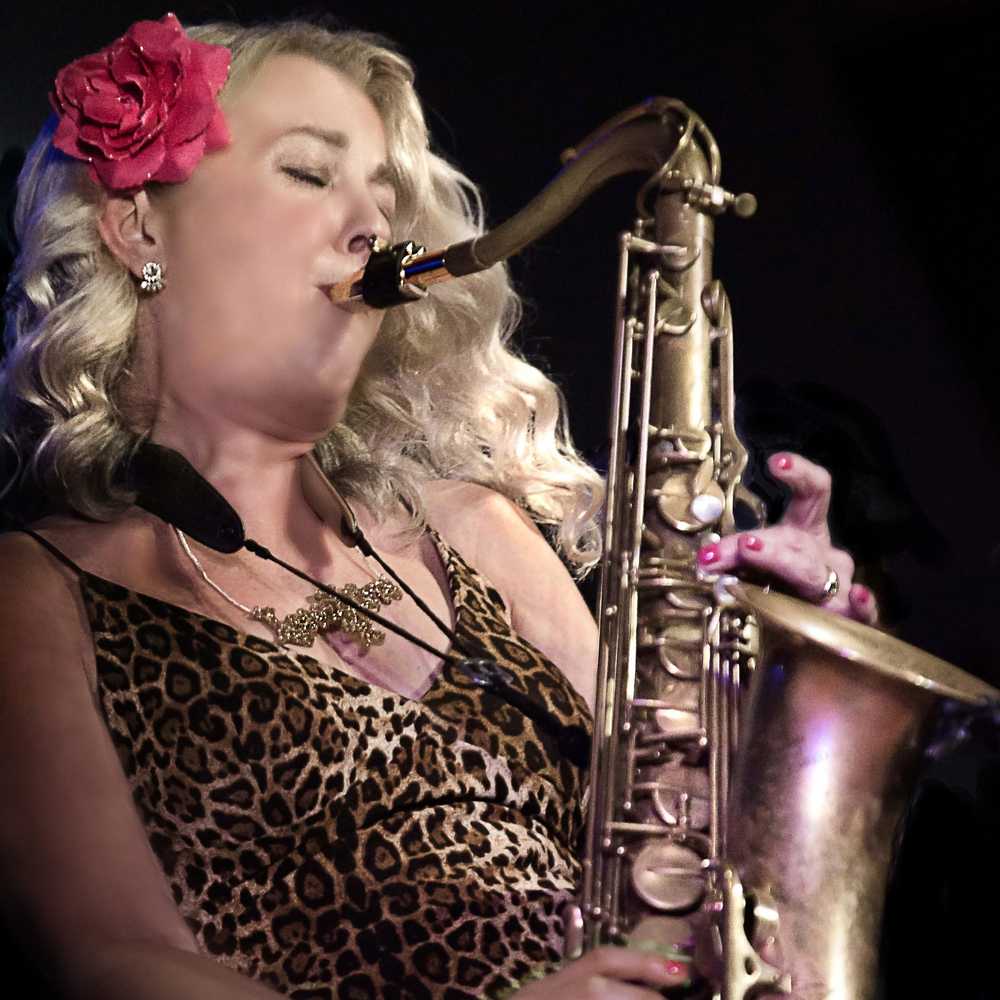 About
Kim has written many articles for our magazine and Jazz in Europe column including interviewing her hero Barbara Thompson MBE and performing at our Women in JAzz Media team night at the EFG London Jazz Festival! 
Inspired by the funkier side of jazz and having studied alongside US saxophonist Pee Wee Ellis and internationally acclaimed jazz saxophonist Andy Sheppard, Kim's style of performance is best described as 'funky saxophonist meets 1940's jazz singer'. Kim performs an eclectic mix of music spanning many genres with a quirky, jazzy twist together with her own original material, all packaged up in a captivating performance and warm stage presence.
Kim has developed her own unique 'funky' style of saxophone playing, built upon influences by great players such as Gerald Albright, Maceo Parker, Pee Wee Ellis, Andy Sheppard, Barbara Thompson, Dean Fraser, Courtney Pine and Grover Washington. Kim's vocal style has been influenced by the greats: Billie Holiday, Ella Fitzgerald together with a wide range of vocalists / performers including Gunhild Carling, Imelda May, Caro Emerald and Liane Carroll.
Kim's debut album 'Make Believe' was released end of 2016, receiving glowing reviews and culminating in a highly successful album tour with sell-out shows across the UK in 2017/18 including Pizza Express 'live' Soho, The Pheasantry Chelsea, The Stables Wavendon, Cheltenham International Jazz Festival, Bristol Jazz & Blues Festival plus many more. Music from the album has been featured on BBC Radio 2, BBC Introducing plus national and worldwide radio stations.
Kim's 2nd album 'Love Kim x' (a collection of inspired original music and quirky takes on some well-known classics) was released on 3rd May 2019. 'Love Kim x' achieved many great reviews and was also listed in the Top 10 jazz albums of 2019 by online jazz magazine Bebop Spoken Here. The new album tour kicked off on 8th February to a sell-out show with special guest Pee Wee Ellis. In 2019 the tour included shows at many great jazz venues and festivals including an album launch at Pizza Express 'live' Soho, Toulouse Lautrec London, The Bull's Head Barnes, Tetbury Goods Shed, the opening slot at Stompin' On The Quomps Festival, Pizza Express 'live' Birmingham, Pershore Jazz Festival, Upton Jazz Festival plus many other great jazz venues. The tour continued into 2020 with many great performances including a sell-out show at Pizza Express Soho with special guest Jazz Giant Ray Gelato. This was part of Kim's 'For Mum' project raising money for The Brain Tumour Charity. The project ran alongside release of a brand new original song 'All For You' in April 2020. The project has so far raised over £2600 for the charity.
'Love Kim x' features some of the finest jazz musicians in the UK and overseas including saxophonist Pee Wee Ellis, David Newton on piano (14 times winner of best pianist in the British Jazz Awards), Clive Morton on double bass (ex-tutor to Jamie Cullum and long-time sideman with Frank Sinatra and Stephane Grappelli), Alex Steele on piano, Chris Cobbson on guitar, Lee Jones on guitar, Tom Clarke-Hill on double bass, John-Paul Gard on Hammond organ, Karl Vanden Bossche on percussion, Mike Cypher on drums PLUS New York guitarist B.D. Lenz and The Kentwood Show Choir directed by Sheila Harrod.
Music from 'Love Kim x' has been featured on BBC Radio 3, BBC Radio London 'live' session plus national and worldwide radio stations.
2020 has so far seen the release of an original song 'All For You' in April as part of Kim's 'For Mum' project (a tribute to her late mum). The song was released with an animated music video created by artsist Martyna Sabadasz. In May, release of a beautiful instrumental track 'Water From An Ancient Well' was brought forward to allow everyone to enjoy this incredible piece of music at a time when live music performances were not possible.
Most recently this year, Kim released an original track and music video 'Crazy Times' – inspired by lockdown and composed, performed and produced by Kim together with husband Mike (drummer). The track and video project demonstrates the power of music to bring people together, raise spirits and create a moment of escapism during crazy times. You can download the track and find out about the incredible community story behind 'Crazy Times' on Kim's Bandcamp page. The video is on Kim's YouTube channel.
Throughout 2020 as 'live' tour dates became uncertain due to the Covid 19 pandemic, Kim has been creating and performing 'live' sessions on Facebook and a collaborative weekly music project 'The Twilight Jazz Sessions' with fellow UK jazz musicians and US guitarist B.D. Lenz. These sessions can be viewed on Kim's YouTube channel.
Kim has performed alongside some of the country's finest jazz musicians including Pee Wee Ellis (saxophone), Ray Gelato (saxophone & vox), David Newton (piano), Clive Morton (double bass), Liane Carroll (piano & vox), Andy Sheppard (saxophone), Denny Ilett (guitar) with regular band personnel including highly acclaimed musicians Chris Cobbson (guitar), Mike Green (double bass), Raph Mizraki (double bass), Anders Olinder (organ and piano), Tom Berge (piano) and husband Mike Cypher (drums). Kim regularly collaborates with US guitarist B.D. Lenz and his band including Easter and Summer tours plus an original album track 'Rising From The Dust' released end 2018 which received a credit from IMBd (online database of information relating to films, television programs and videos).
In 2019 Kim was featured in the award winning 'Women In Jazz' book by author Sammy Stein and published by 8th House where she is described as "one of the UK's most popular players".
In 2020 Kim was asked to be part of a new book by Sammy Stein (with Debbie Burke) called 'Gender Disparity in UK Jazz'. This book gets inside the UK Jazz scene, looks at gender disparity issues and discusses the reality, the potential for change and the ways ahead. 
In 2016 Kim was flown to New York with her jazz quartet for a private jazz performance in Manhattan. Kim was also commissioned to perform a private event for the Prime Minister Theresa May in August 2017 with a repeat booking in September 2020.
Kim started playing saxophone at age 9 and achieved Grade 8 practical and theory of music with distinction by age 14. She studied Expressive Arts at St Paul's & St Mary's College in Cheltenham where she was awarded a First-Class Honours for her original musical composition for saxophone, clarinet, Peruvian pipes and percussion. Prior to turning professional as a musician, Kim was Head of Music at a primary school in Gloucester for 17 years. She has also been a saxophone tutor at the Cheltenham Boys College and a tutor at the Cheltenham Rock School.
Kim has appeared on national TV and Radio and has recorded as a session musician on a variety of recordings and is a resident performer at highly prestigious restaurant & venue The Ivy in Cheltenham.
View other members
You are viewing member 17 out of 27.