Germana Stella La Sorsa: Primary Colours
26th January 2024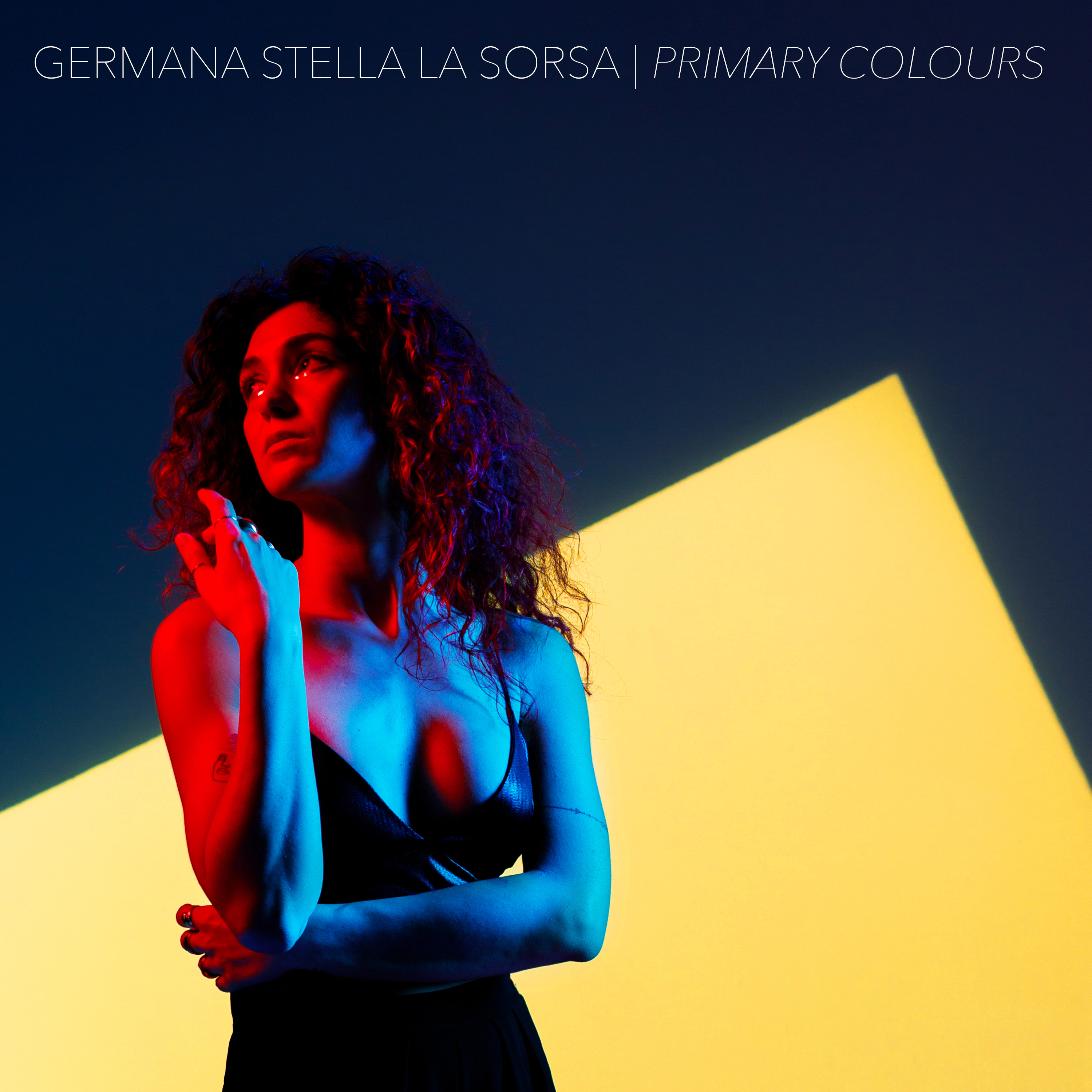 Singer and Storyteller Germana Stella La Sorsa to release second studio album "Primary Colours" on January 2024. With special guest Australian harpist Tara Minton and featuring Sam Leak, Tom Ollendorff, Jay Davis
"...powerful and refreshing vocal." Jazz Journal
"There is a sort of positive melancholy in Germana's vocal performance, you hear a link to the tradition yet at the same time it's fresh and forward facing."  Jazz in Europe
Two years since her debut album Vapour,  Italian London-based singer and storyteller Germana Stella La Sorsa proudly announces the release of her second studio album, Primary Colours. Supported by Help Musicians, Primary Colours is released by 33 Jazz Records and distributed by The Orchard.
La Sorsa has released three singles: 'Black' in October 2023, 'Blue' in November 2023 and the title track 'Primary Colours' in December 2023. The album features long-time collaborators Sam Leak on Hammond Organ and Jay Davis on drums, with the addition of guitarist Tom Ollendorff and special guest Australian harpist Tara Minton.
Primary Colours contains 7 original compositions reflecting La Sorsa's musical influences - such as Gretchen Parlato, Bobby McFerrin and Jeff Buckley - and drawing upon her eclectic background and skilful voice, as well as the band's versatility, to create something fresh, new and unexpected. The music explores drum'n'bass grooves, latin influences and free improvisation.
Primary Colours is a concept album that draws parallels between the art of colour and musical narration.
"With this album I wanted to share something more deep and intimate than my first release. I was galvanised to create something the listener can relate to through the association of colours and feelings – through stories.'Primary Colours' is about how base human feelings and life experiences interconnect and interact with each other - ultimately leading to life changes - just like primary colours and shades combine themselves, creating new tones." Germana Stella La Sorsa
Following this idea, each track on the album conceptually flows from the last and into the next, always keeping the listener interested and engaged. The track that opens the album is 'Black' – the first single – with which La Sorsa opens up about her struggle with depression. With this surprisingly cheerful and lively tune, the singer shares about battling her condition with awareness, drawing upon the moments in which she lightheartedly accepted loneliness and dismay.
It invites the listener to dive into the quartet's synergetic interplay and improvisatory freedom.
Featuring Australian harpist Tara Minton, 'Blue' – the second single released - is a contemporary bossa-nova influenced ballad inspired by the singer's country of birth, Italy, and in particular her hometown Taranto (Puglia). Composed with the musical contribution of La Sorsa's Italian colleague and friend, guitarist Francesco Bellanova, 'Blue' has Italian lyrics dedicated to motherhood and to the singer's first son - a love lullaby that could remind him that she'll always be his safe harbour, as her hometown is for her.
" 'Blue' is about that safe place that you can always come back to; where you'll always belong. For me, that's my homeland and my roots, so inevitably the sea and the sun, which are the things that I've missed the most since moving to the UK. At first, I felt quite self-conscious about writing in Italian. I guess it makes me feel more exposed in some way. Then I got very enthusiastic about sharing my roots in my mother tongue...it just made sense to write something my fellow Italians and my son would easily understand. The song was previewed at the Taranto Jazz Festival last summer, and I was pleased to discover everyone loved my writing in Italian."
On special guest Tara Minton, La Sorsa states: "She is an extraordinary artist. From our first encounter it was clear that we were artistically and humanly on the same page. She is from Melbourne, so I knew that she would understand my deep connection with the sea and how to give expression to this."
 The title track and last single 'Primary Colours' expresses the message of the album. It states how experiences and feelings mix together to change one's perception of things, ultimately leading to one's feeling grounded, aware and self-reliant.  The tune is an invitation to embrace life's events with curiosity and confidence.
 To follow, support, stream and purchase click here