Women in Jazz Media Hardship Support Project
14th April 2021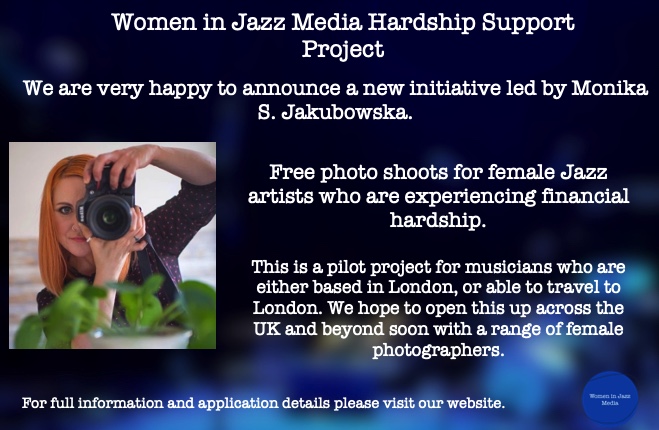 Working in the Jazz industry is a struggle for us all, especially since COVID19. We at Women in Jazz Media have been working hard to support female/female identifying artists across the world in many ways and we continue to develop and grow the ways we can support. We are very happy to announce a new initiative led by Monika S. Jakubowska.
Free photo shoots for female Jazz artists who are experiencing financial hardship.
Monika S. Jakubowska is a renowned photographer, with work published in many publications including The Guardian, The Times, The Telegraph and she is one of the official photographers at Ronnie Scott's Jazz Club. She says 'I really want to help young people working on their project and in need of promo shoots, band shots and so on. People who really need some support'
This is a pilot project for musicians who are either based in London, or able to travel to London. We hope to open this up across the UK and beyond soon with a range of female photographers.
We would like to support anyone who needs support in a fair and transparent way. Using guidance from the Help Musicians UK support fund, applications are open to anyone who is under financial hardship for example:
Receiving Universal Credit and still struggling to make ends meet.
Not eligible for Universal Credit but experiencing significant financial hardship and struggling to make ends meet
Complex needs that go beyond financial hardship. These may include long-term health issues, complicated domestic circumstances or complex financial situations.
We would value an open dialogue with you to ensure this financial support offer is going to women who need it. All applications will be considered and explored confidentially by the Women in Jazz Media team.
Please note if you are successful, there is no requirement for you to reference the Women in Jazz Media Support Project in any way, but you will be required to credit the photographer for their work and be an advocate for ensuring their work is credited whenever it is used.
Applications are through this form: Women in Jazz Media Photography Support Fund