Vimala Rowe
Vocalist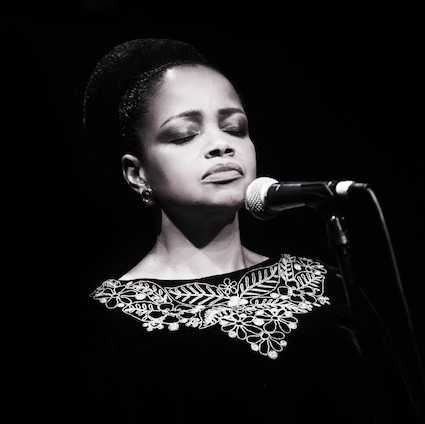 About
Vimala has performed in two of our Women in Jazz Media events -  'Sophisticated Giants' celebrating the work of Maxine Gordon through a fantastic set of music platforming the work of Maxine Sullivan and Velma Middleton and our Nov 2022 EFG London Jazz Festival event 'for the love of Ella' at Jazz Cafe Posk.
Vimala will also be hosting our 'Knocking Down The Door' podcast series platforming inspirational black women in the jazz industry.
From her training in Hindustani classical music in India to World music, Soul and effortlessly swinging Jazz, award winning singer Vimala Rowe has rapidly become recognised as a major talent on the British Jazz scene.  
Performing at Ronnie Scott's, EFG London Jazz Festival, Snape Maltings Proms and countrywide, delighting and astonishing audiences with her passion, delivery and enormous range of expression. Her Duo album of mixed genre and original songs 'Out Of The Sky' with legendary guitarist John Etheridge was top 10 critics choice in both The Guardian and The Sunday Times.  
Vimala co-composed a work with Flamenco supremo Paco Peña performing at 
Sadler's Wells.  She has had the good fortune of performing with such Jazz luminaries as the late great Bobby Wellins, Toni Kofi, Nathaniel Facey, Andy Cleyndert and many more. ! 
Her range is from big band to intimate duo, Jazz and blues through to International folk and Northern Indian Classical - which she studied for a year in Nagpur, India.
'I love to make music that can be a shared heart opening experience, especially when performing live. The musicians, the audience coming together in moments of love and clarity and in pain, it's what I live for'. - Vimala Rowe  
'One of the most distinctive singers to come along in some time' - The Sunday Times
View other members
You are viewing member 25 out of 27.