WOMEN IN JAZZ MEDIA AT THE EFG LONDON JAZZ FESTIVAL: Improvisation Workshop with Charlotte Keeffe
20th November 2022 - Toulouse Lautrec
#efglondonjazzfestival
#womeninjazzmedia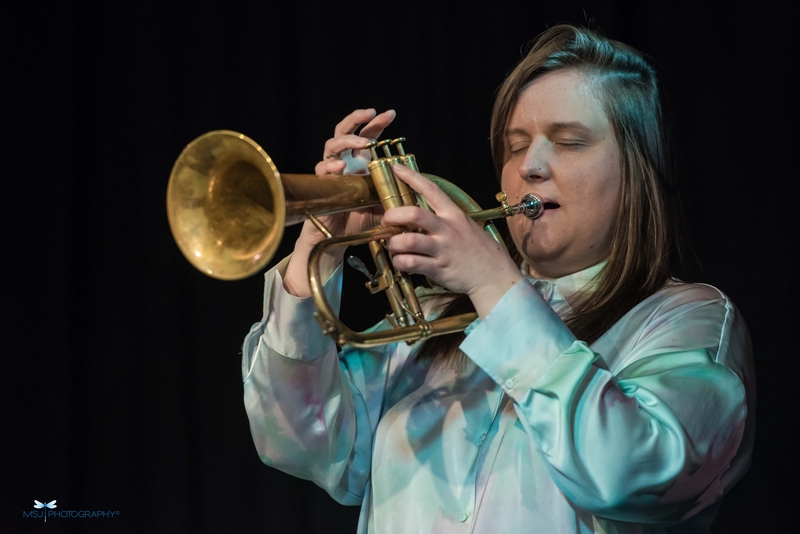 Photography by Monika S Jakubowska
A workshop in improvisation for all women, non-binary people and those who don't feel seen or heard within the environment they make music in.
Open to all but this workshop will particularly benefit those beginning to explore improvisation, in their early career and find that little boost of confidence when improvising. The workshop will be lead by leading improviser Charlotte Keeffe in a safe, open and welcoming space. 
 Charlotte is a jazz and improvised music trumpet professor at the London Performing Academy of Music. She is also part of the Parliamentary Award Winning, Women in Jazz Media team, working alongside folks to create gender and diversity equality within the music/jazz industry. Her passion for free improvisation, jazz and experimental music-making sees her performing regularly as a soloist and leading a variety of different ensembles, including her own Quartet. (The) Charlotte Keeffe Quartet (CKQ) (Café OTO, Newcastle, Birmingham, Sheffield and the London Jazz Festival).
Charlotte's debut album, Right Here, Right Now, which features a selection of her improvised works for solo, duo, quartet and (the) London Improvisers Orchestra, it's out now on the Discus Music record label.
…Keeffe shows notable strength of character as she runs the sonic and emotional gamut.'
– Kevin Le Gendre, JAZZWISE
'…Charlotte Keeffe's blood-red, rasping flugelhorn and trumpet blew breathy cadences and messages as if her lungs were burning with an electricity all of her own.'
– Chris Searle, MORNING STAR
'Keeffe performs with great assurance and inventiveness and her playing in this essentially improvised context is a revelation.'
– Ian Mann, THE JAZZ MANN
 Charlotte is inspired by the way painters explore colours and shapes. She refers to her trumpet and flugelhorn as her 'sound brushes'. Her music has been featured on Jazz FM, BBC Radio 3 and BBC Radio 6 where she's been described as a 'prolific', 'dynamic' and 'excellent improviser!' by the likes of Corey Mwamba, Stuart Maconie and Jez Nelson.
 In February 2022 she was invited to perform a solo set as part of Biel/Bienne's Ear We Are International Improvised Music Festival in Switzerland, sharing the stage with the likes of USA's Moor Mother and Irreversible Entanglements. Charlotte was the only woman from the UK performing at Ear We Are and proudly plays in the London Improvisers Orchestra (LIO), she also leads LIO conductions and is a board member assisting the preparations for each monthly LIO concert.