WOMEN IN JAZZ MEDIA AT THE EFG LONDON JAZZ FESTIVAL: The All Female London Gay Big Band
20th November 2022 - Toulouse Lautrec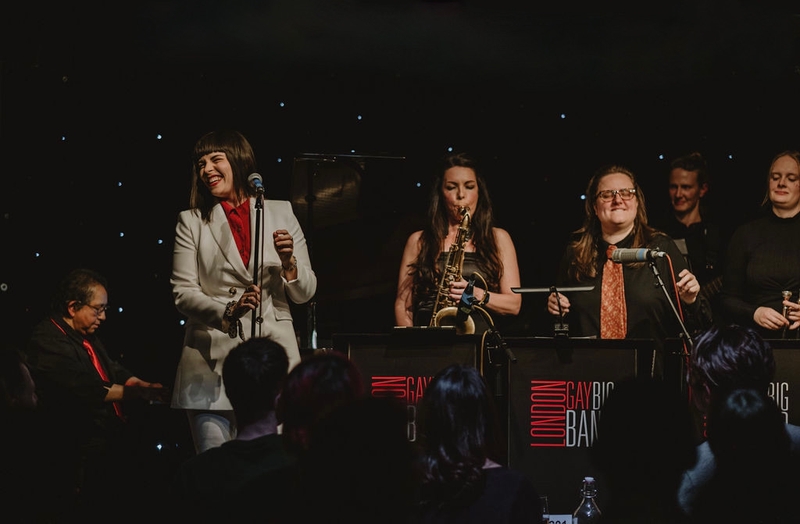 Photography by Jess Rose
Tonight a specially formed all female small big band is going to bring the house down The London Gay Big Band, founded in the summer of 2011, is a sensational jazz orchestra made up of predominantly – but not exclusively – LGBT musicians and vocalists, bringing a fresh and fabulous vibe to the London music scene.
Since its formation, the Band has gone from strength to strength, performing at a number of high profile events, including EFG London Jazz Fest, (2021), London Pride, and top venues throughout London and internationally.
In 2014 the LGBB reached the Semi Finals of Britain's Got Talent, performing live to a television audience of 7 million people!
'All brilliant performers!'  – David Walliams 
Previous appearances include Ronnie Scott's, BST Hyde Park Festival, Southbank Centre, main stage at Trafalgar Square for Pride in London, main stage at BT London Live in Victoria Park (part of London 2012 Olympics), Roundhouse, Hackney Empire, The Lord Mayor's Show & Charing Cross Theatre, among many others. They have recently released our second album, FREEDOM, which follows our debut album BRAVE recorded at Abbey Road Studios with some of Britain's finest vocalists from Jazz and West End, including Ian Shaw, Clare Teal, Claire Martin and Emma Hatton.