Women in Jazz Media and Tomorrow's Warriors Present: Romarna Campbell
3rd February 2023 - Jazz Cafe Posk
#womeninjazzmedia
#events
#romarnacampbell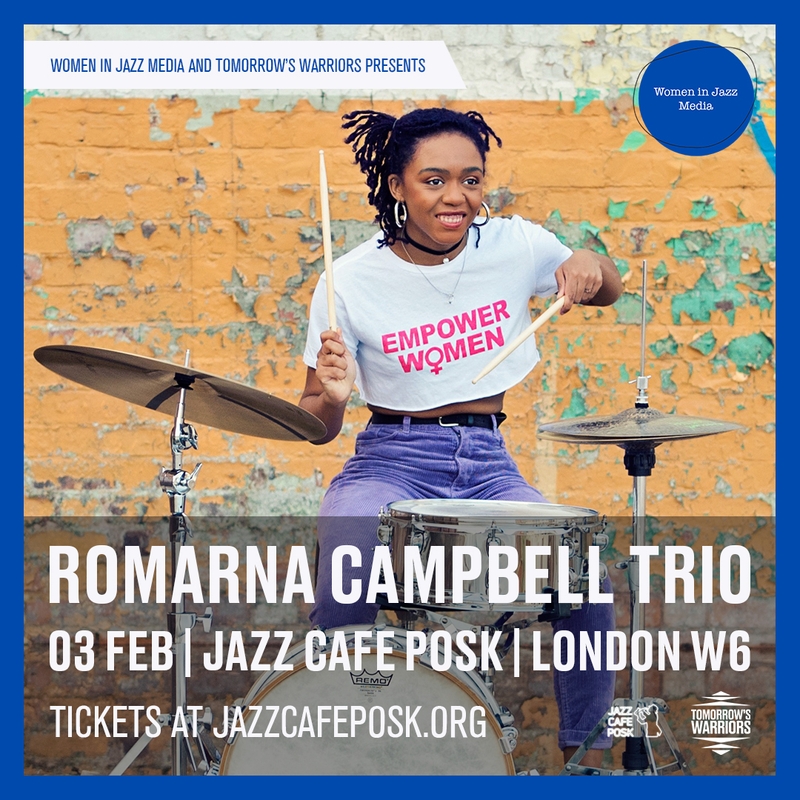 Friday 3 February 2023 
Women in Jazz Media and Tomorrow Warriors present: Romarna Campbell
Romarna's musical storytelling begins with the drums. The nomadic spirit of this exciting drummer, producer and composer lives in her jazz and hip hop-infused music. Her irrepressible energy can be heard on Inherently Political, a super-charged sonic assault on racism that immediately won favour with Anne Frankenstein, Jazz FM's Tony Minvielle and had her crowned by Jamz Supernova as New Name of the Week. 
Her independently released kaleidoscopic debut 25 Songs for My 25th Birthday features Soweto Kinch, Tomeka Reid, Sumi Tonooka and Lady Sanity and takes us deeper into her world of resonant frequencies and conscious vibrations. 
Having honed her craft with Berklee College of Music, Tomorrow's Warriors and the Notebenders, Romarna stands on the shoulders of giants and is drawing inspiration from the view as she beats a path forward that is very much her own.
More about Tomorrow's Warriors
Tomorrow's Warriors is a pioneering talent development organisation, creative producer, learning and training provider, charity and consultancy specialising in jazz. Founded in 1991 by Queen's Medal for Music recipient Gary Crosby OBE and Janine Irons MBE, Tomorrow's Warriors helps aspiring young artists from diverse backgrounds discover their magic and achieve creative ambitions.
TW nurtures nascent talent and builds engaged, culturally diverse audiences and has been recognised both nationally and internationally, receiving over fifty awards, including the 2021 Impact Award from Jazz FM.
Their award-winning alumni include Moses Boyd, Nubya Garcia, Sheila Maurice-Grey, Cassie Kinoshi and Nerija, Femi Koleoso and Ezra Collective, Binker Golding, Shabaka Hutchings and Sons of Kemet, ESKA, Denys Baptiste, Soweto Kinch, Ben Burrell, Zara McFarlane, Camilla George, CHERISE, Nathaniel Facey and Empirical, Peter Edwards... the list goes on and on.
"Tomorrow's Warriors have changed the musical landscape of Britain. It's as simple as that" - Cerys Matthews, Artist & Broadcaster
Find out more at www.tomorrowswarriors.org
Line up:
Romarna Campbell - drums
Cenk Esen - keys
Mutale Chashi – el. bass