Women in Jazz Media Present: Faye Patton
6th January 2023 - Jazz Cafe Posk
#womeninjazzmedia
#events
#fayepatton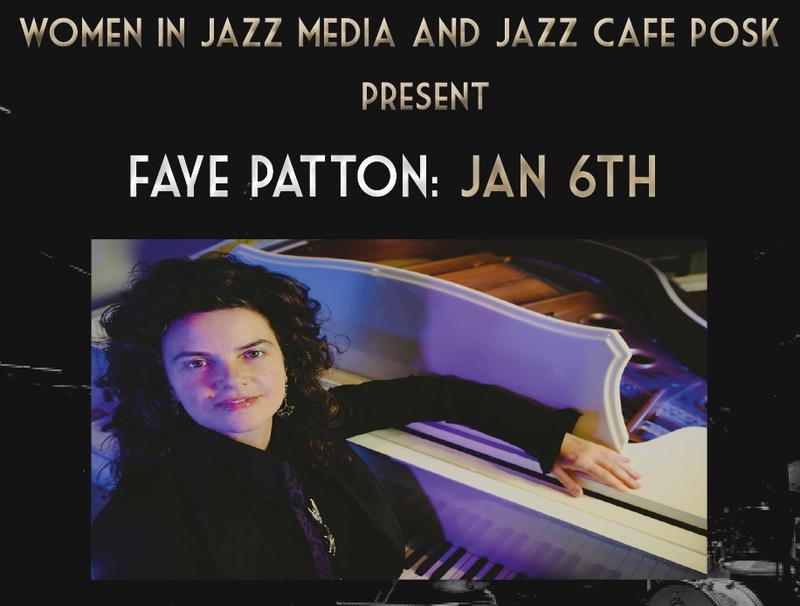 Friday 6th January 2023
Women in Jazz Media present: Faye Patton Nu Jazz Quartet - a night of music to soothe the soul and fire the spirit...
Faye Patton and her funky quartet present an evening of songs from her back catalogue and current and forthcoming releases: 'Soul Retrieval' and 'Soho Nights'. This is contemporary red-hot Nu Jazz with a Latin/bossa vibe and a vintage twist - soaring, soulful vocals, glittering guitars, blistering piano hooks and a super tight rhythm section. 
Faye is a singer-songwriter, pianist, and classically trained guitarist - she writes original songs in jazz idiom which combine jazz, funk, pop, folk, gospel and blues influences with a classic sound that recalls the great jazz divas of the past. Her vocals, (with a register that stretches to heights, depths and lengths that make audiences gasp) have been compared to Judy Garland and Joni Mitchell. Her prodigious piano playing has been compared to Ray Charles and Horace Silver. A powerful lyricist and prodigious producer of 5 independent releases, her songs contain an inspirational LGBT flavour rarely seen on the jazz scene. She is currently the resident in house musician at art deco cocktail jazz venue Bermondsey Arts Club.
Faye has gigged regularly in and around the London over the last 20 years in city's leading jazz venues. She has been featured as a guest blogger in London Jazz News and has had radio play on BBC Radio Foyle, Radio Jazz Caribe, (Venezuela) Resonance, Real Music FM, and London Jazz Radio and is featured in international jazz blogs and podcasts.
Faye Patton - guitar, vocals, piano, song writing
Ryan Pope (Julie Dexter, Fil Straughan) - lead guitar
Harry Gould (Jim Jams) - el. bass
Ian Newton-Grant (Claude Deppa, Omar Puente, Courtney Pine) - drums
"Crisply soulful ... Patton's compositions are strong, her lyrics intriguing, her playing pleasingly angular. A definite stand-out from the crowd" - Jazzwise Magazine
"Remarkably seductive voice and presence, musically skilled, and strong and passionate personality = FAYE PATTON" - Luis Raul Montell, Radio Jazz Caribe
"One of east London's finest jazz vocalists and pianists" - Hackney Empire
"Her voice is truly something else...beyond compare" - Isle of Wight Jazz Festival