An Evening With Women in Jazz
9th March 2023 - Thornton Heath Leisure Centre
#womeninjazz
#musicrelieffoundation
#events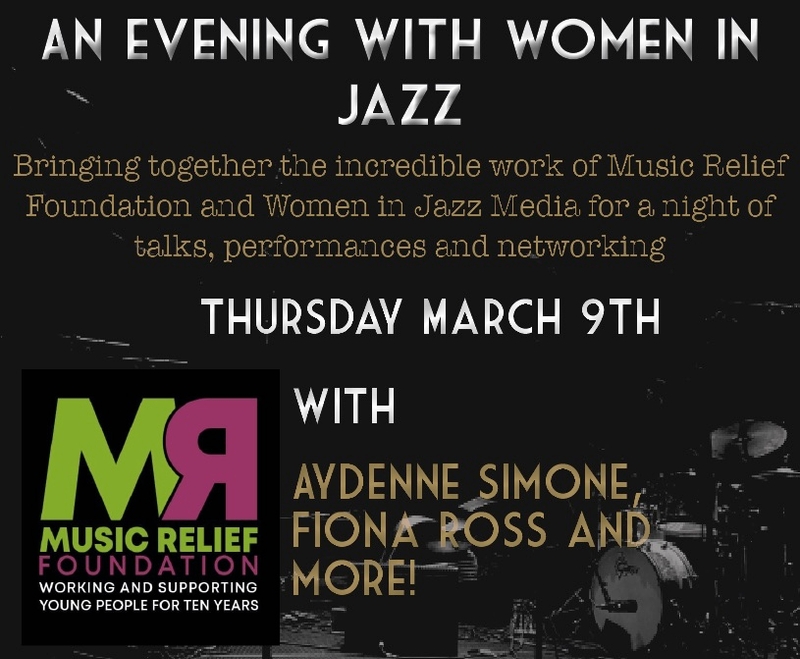 The first of the Music Relief Foundation 'An Evening With...' events, collaborating with Women in Jazz Media for a night of lectures, performances and networking. It will be an inspirational evening full of important conversations, performances and networking with incredible women changing the music industry today. There will also be snacks and refreshments available on the night! See you there!
There will be talks and performances from:
Fiona RossNamed among the 100 Alternative Power Music List for 2020, multi-award winning jazz artist, editor-in-chief, journalist and founder of the award-winning Women in Jazz Media organisation... Fiona Ross never stops. As a vocalist, pianist, composer and producer, Fiona has become known for creating her own contemporary jazz sound incorporating fast-paced Latin Jazz, vintage Jazz club, a little neo soul along with heart-wrenching ballads.
As founder of the ground-breaking award-winning organisation, Women in Jazz Media, Fiona has developed many exciting initiatives including a mentoring scheme for new female writers, a free music promotional package for female artists, podcast series and she is the editor-in-chief of the highly regarded quarterly Women in Jazz Media magazine, allowing a platform for women working in Jazz across the world. Through Women in Jazz Media, Fiona collaborates with many official partners including the Jazz Times, Jazzwise, Jazz in Europe, Black Lives in Music and Céline Peterson. Fiona's work with these partners has led to an increase in the gender and diversity balance in several publications. Fiona's interviews for Women in Jazz Media include Celine Peterson, Hiromi, Jordannah Elizabeth and Dr Tammy Kernodle.
Aydenne Simone, a jazz diva nominated for the Nina Simone Jazz Award in 2011, is a powerhouse musical talent, with deep sensuous velvet tones and an ability to deliver that rare timeless quality attributed to the great jazz singers of the 20th century. Along with her fabulous musicians, and guesting with other bands, Aydenne is consistently busy delivering memorable performances across the UK.
Aydenne has her own fabulous trio. As you may know, her nickname is 'Big Mama' and of course, her trio is named 'The Big Mama Trio' consisting of London's finest jazz musicians; Tom Dring (Bass), Olly Chalk (Piano) and Gwilym Jones (Drums), and together they have had the pleasure of playing sell-out shows at some of the finest venues including London Jazz Festival in 2018 and 2019, the fantastic new jazz venue Peggy's Skylight in Nottingham, and Soho Live Jazz Week.
There will also be talks from the founder and CEO of the Music Relief Foundation,  Magdalene Adenaike. With over twelve years of experience running a charity, Magdalene delivers training and seminars on change, turning pain to purpose, youth crime prevention and holistic family engagement, and the importance of the arts. She also provides business coaching to those thinking of starting a non-profit organisation, those juggling several ideas and struggling to understand which one, to begin with, and delivers practical training on best practice teamworking: a TEDx and public speaker, multiple award winner, Fellow with the Royal Society of arts, author, mentor and singer/songwriter.
Performances from Music Relief Foundation team members – Isabel Marquez, Gosia Janek and Nia Shaw