Women in Jazz Media presents: #DEX100 with J Steps and Lily Dior
6th October 2023 - Haverhill Arts Centre
#womeninjazzmedia
#events
#DEX100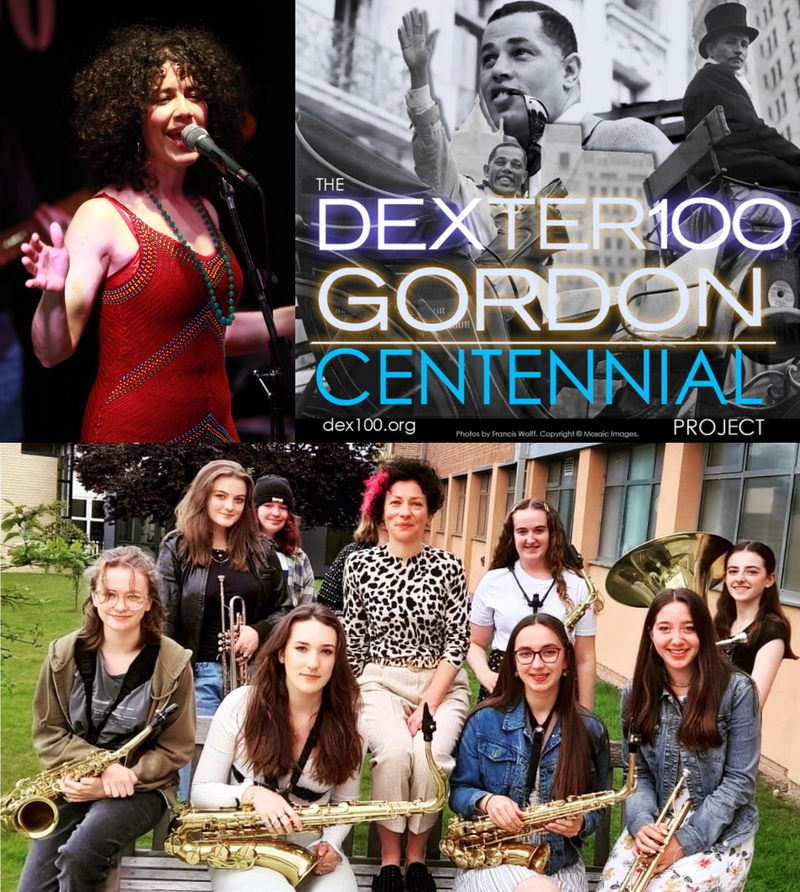 Paying tribute to the legendary king of jazz, Dexter Gordon, the American jazz tenor saxophonist, composer, bandleader, and actor who left an untouchable legacy as part of the global Dexter Gordon Centennial Project.
A fantastic event at Haverhill Arts Centre, with award winning sax star Hannah Horton, vocalist Lily Dior, and award winning J Steps in partnership with the Dexter Gordon Society
J Steps are a jazz ensemble led by Hannah Horton for female and non binary improvising musicians and have just won the Parliamentary Jazz Education Award. . The players are grade 6 and above and are taught jazz harmony and improvisation, playing standards and originals. J Steps have performed at EFG London Jazz Festival and Saffron Hall foyer.
Saxophonist and composer Hannah Horton is back at HAC with a brand-new jazz club that is causing a significant buzz in the jazz industry. Keen to bring international standard jazz music to Haverhill, A-list guests and up-coming artists, Hannah is an artist who has carved her own unique sound and vision over her career. She will be bringing her highly acclaimed quartet which includes Tim Lapthorn on piano, Rob Statham on bass and Nic France on drums.
Hannah's music is rooted in jazz, folk and funk and her established individual and sophisticated sound is edging through boundaries and creating waves worldwide.
She has showcased her skills alongside a plethora of great artists such as Amy Winehouse, Ian Shaw (who is also guest vocalist on Inside Out), John Etheridge, Georgia Mancio and has performed at all of the UK's most prominent jazz venues such as Ronnie Scott's, The Royal Festival Hall, the Barbican, 606 Jazz Club and selling out at London Jazz Festival shows.
LILY DIOR is recognised as one of Australia's finest singers, having shared the stage with Oscar Castro Neves, Airto Moriera, Don Grusin, Dave Matthews, Jackie Orszaczky and more! HEr list is endless. She has performed at many of Australia's best venues and festivals including The Opera House Concert Hall, Adelaide Festival Theatre, Melbourne Concert Hall, Sydney Town Hall, Sydney Festival, and toured and performed in Australia, Japan, Shanghai, Hong Kong, New York, Italy and Sicily most recently for Catania Jazz Festival.
An expat Australian singer now settled in London, Lily Dior comes with an impressive and extensive cv. Her debut album 'Invitation' received universal praise and put Lily firmly on the Australian music map. "She can belt out a song, dramatize a lyric, swing hard and earthy, flirt, sing a tender song - Lily can tell a story" ABC. In what is now an extensive and highly respected career Lily is recognized as one of Australia's foremost vocalists, performing at major festivals and venues around the world, including performances in the likes of New York, New Zealand, Japan, Singapore, Shanghai, Hong Kong and of course London. She has shared the stage with a who's who of world-class musicians including Oscar Castro Neves, Dale Barlow and James Morrison and includes numerous TV and Radio appearances as well as hosting her own show on Sydney's premier jazz station 'Eastside Radio' for over ten years.
"Jazz and soul coexist in Lily Dior's repertoire, and in her vocal style... sassy, soulful, passionate and strong." Rhythms magazine
"Dior's voice has the depth, control and clarity of Gregory Porter" KindofJazz