Diana Torti & Sabino de Bari: It's All We Have
7th April 2023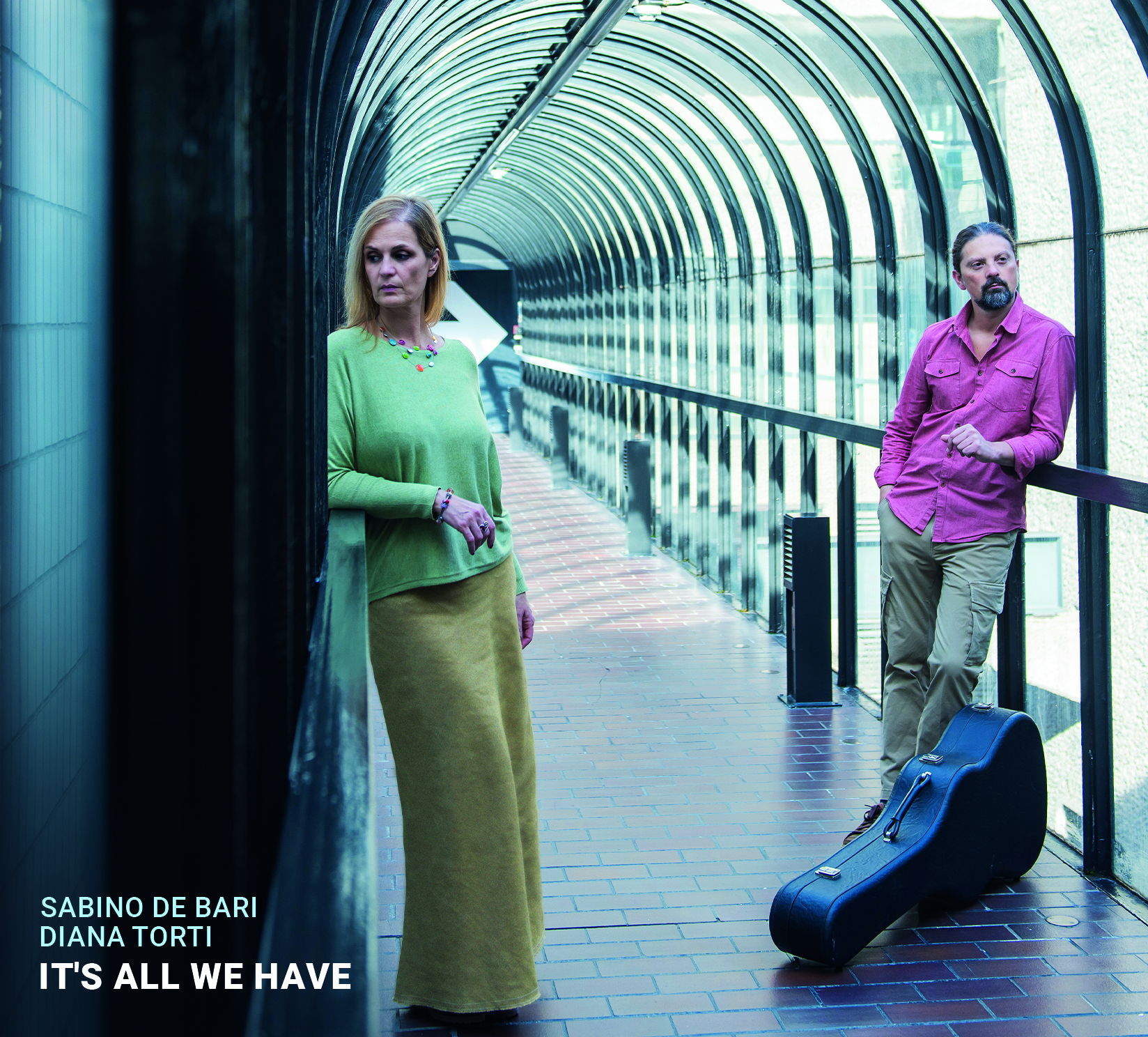 It's All We Have is a reflection on the beauty of the world and humanity in contraposition to the power which is exercised in multiple forms on people through extremism, economy and politics leading to denial of rights and environmental threats.Sabino's compositions create a file rouge through themes from slavery (Whisky) to capitalism (The Extra Something); the women's condition (Melodia), particularly referring to the actuality in Afghanistan, and the wars led by economical profits but disguised behind good intentions (Cuba Libre); the desperate conditions of children in some areas of the world (Sonhos de Marcelo), the climate change due to human behaviour (A Little Road Not Made Of Man), the uncountable nature magnificence (It's all I have To Bring Today) and the beauty and power of the unseen in the world (Who Has Seen The Wind?).
The voice of women has been chosen to tell these stories through poems by Emily Dickinson and Christina Rossetti. These poems bring positivity and hope (Hope) which connects to an inner and more intimate way of interpreting the album title "It's All We Have" which represents the urge, as artists, to produce music, express ideas, value human beauty against the struggle that everyone goes through in the everyday life. Within this vision, Diana contributes, as an interpreter and as a writer of the lyrics of two songs that offer a further reflection on human relationships (Beyond Clouds) and the opportunity coming from unexpected experiences than can totally lift you up and transform us and our existence…"In Spite of Everything".
Diana Torti and Sabino de Bari started their musical path in 2006. Over time, they have been exploring musical boundaries through composition and improvisation, merging their wide experience and skills in various genres and styles of music (from contemporary classical, to jazz and early music). Since their first album, "Voices", sextet, to the most recent, "On a Cloud", as a duo, they have been successfully navigating musical territories where the exploration of sounds and timbre possibilities were mixed with rich harmonies and refined melodies as well as recall of Mediterranean culture and sounds.
All tracks composed by Sabino de Bari
Lyrics: Emily Dickinson (tracks 4,6,10), Christina Rossetti (track 3), Diana Torti (tracks 2,11), Sabino de Bari (tracks 1,8), John Hay (track 5)
Sabino de Bari - compositions, lyrics, guitar
Diana Torti - vocals, lyrics
Recorded at Four Walls Studio in Giovinazzo (Italy), in December 2022
Mixing & Mastering by Sabino de Bari
Photo by Monika S. Jakubowska
Graphics by Cristina Lombardi