Lara Eidi: Sun
4th September 2023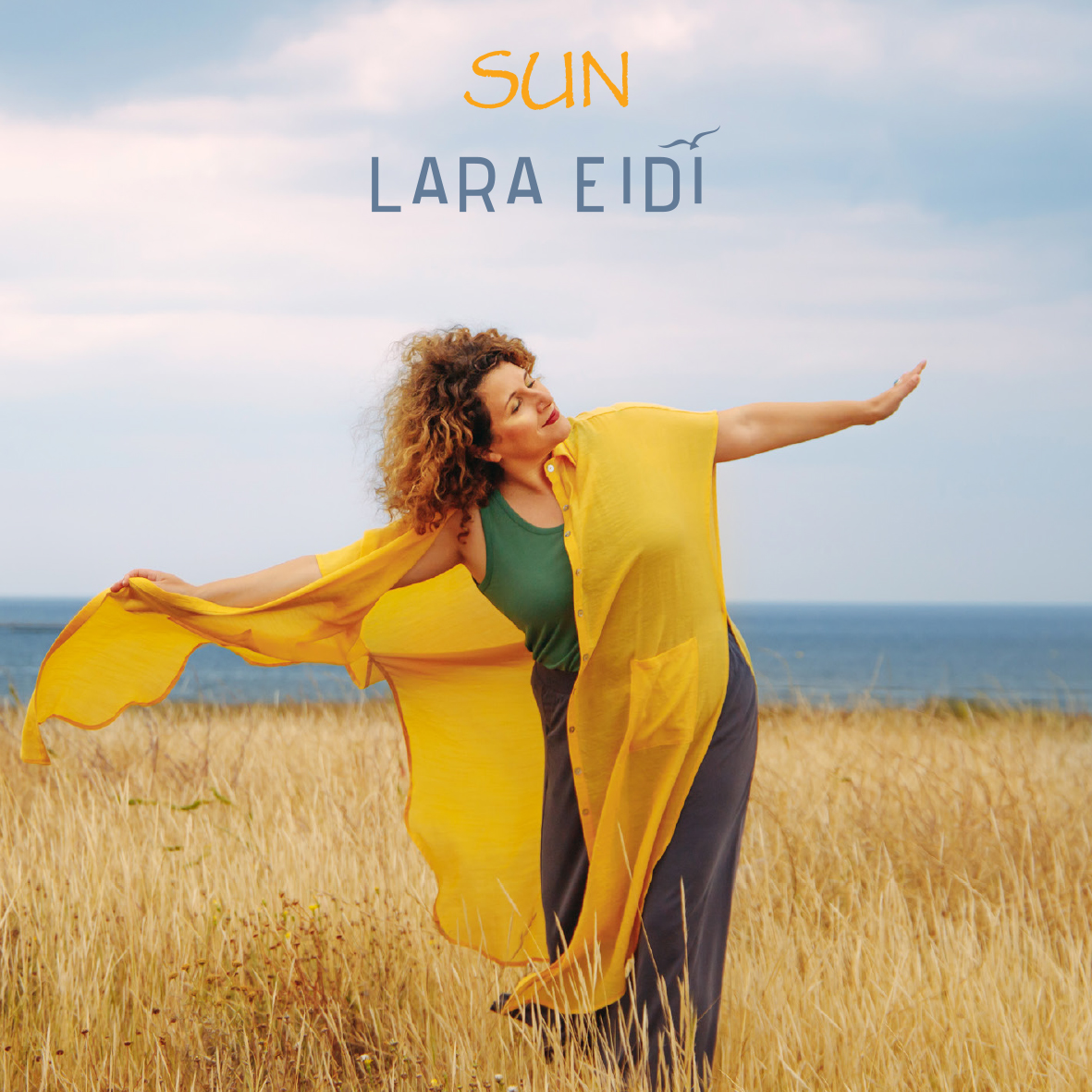 Singer-songwriter Lara Eidi releases her stunning new album 'Sun', following the huge success of the album's first single ' Breathe Love' ( Canadian Beat's Passport Selection) with A& R Music calling it "a jazz-folk remedy for modern malady ". With its genre-defying sound and heartfelt lyrics, the song is a testament to Eidi's unique artistic vision and creative prowess, a true mirror of the album 'Sun'. Born to Lebanese-Canadian parents, relocating to Athens from London, Lara is a modern day troubadouress that has seen hard working recognition for her distinct voice and presence ; " quite simply, the future of cosmopolitan folk "Ex- Friendly. The award-winning jazz artist, journalist and Recording Academy Voted Member Fiona Ross who wrote the album liner notes says of the album:
"Music is an omnipotent tool. It has the potential to strengthen and empower. To bring light where there is dark . To calm the mind and soothe the soul. But these almost magical moments of connectivity can only be realised if placed in the right hands. Lara Eidi is those hands .."
About the album, in Lara's words:
"I had spent so long in the hustle and beautifully chaotic London , building my career, gaining momentum, performing, the works, but I had started to lose sight of my 'voice'. What was it that I wanted to say, now, as a changed person. I went through three heavy life altering years, that had weighed on my heart and soul- so obviously, aside from being a haven for creating, I decided to do something which felt like the bold choice. I looked to the past to re-create what I had lost: old songs that were never released ( Forgive, Tide, Sun) , newer ones that weren't finished ( Damien, Hang On), and because I had more to say, wrote a few new ones ( Hello Gravity, Breathe Love, and Maybe Then). I wanted to give the WHOLE picture, raw, truthful, beautiful and embodied all the different layered emotions I was feeling on a daily basis. The sound of these songs was huge- full of rich layers and textures that came alive and felt like a burst of energy I had kept hidden from the world. That's when I realised, that it was time for an album. "Sun" was born. Now, I just needed the musicians. Not knowing anyone in Athens except for a few trusty old band mates, I went out and saw loads of gigs. Slowly but surely, I pulled together some of Athen's most amazing musicians from the folk, classical and jazz worlds. I put them in the same room, gave them the music which I had worked tirelessly with my friend and producer, Giotis, and said "let's just play through everything and see what happens".
I was filled with a sense of overwhelming joy: they had learnt the music off my heart. Mind you, this isn't common. Especially in a city where music is underappreciated. A month later we hit the studio ( Syn Ena Recording), recording the rhythm section first, myself on piano, guitar with Petros Fatis on drums, and Harrys Pandazsi on bass. Next up, the magical string trio-Lagom Quartet - with my trustee friend and co – arranger Stavros Parginos. Finally, it was time for the vocals. I knew I had to make the most out of those sessions, so I went home and re-wrote the most intricate and complex harmonies, imagining for a moment I was back in London and had 10 singers in the same room. As I recorded each vocal line, I felt a slow and almost spiritual release of music and stories I had lived with for a long time come to life.
Before we finished the record, I wrote this, which pretty much sums up each track of the album, and what I want to share with you all. I had to face my nearly crippling anxiety, and a fear that I wouldn't be able to turn to the one thing that kept me going. Even on the darkest of days, there is always Sun .. I like to believe that on the hardest of days, I can breathe love into the world. I can feel the sun, touch down and converse with gravity. I can choose to let go and forgive, and I can choose to ride the tide as it comes and get ready for the unexpected wave. After all, all we can do really is hang on, forgetting the Damien's of this world. Maybe then when I've embraced it all, maybe then everything will turn out fine. Maybe then, we'll find the Sun, within.'
The album's liner notes are written by award winning UK jazz artist and journalist Fiona Ross, who praises Lara for an album that "heals and astounds all at once ".
Eidi is an artist known for her genre-bending style and captivating presence " a gift of a voice " ( Sandy Brown Jazz), and also takes pride in her work as a music journalist and creator of songwriting podcast " The Notes Between "., as well as founder of educational music platform Phonica Music CoachingHer ability to connect with audiences on a profound level coupled with her powerful voice and evocative songwriting has made her debut album Sun a piece that showcases her artistic evolution and delivers a message of hope, empowerment, and freedom. Out now on all platforms via independent UK based @Pastiche Records.
Visit www.laraeidimusic.com to listen and support Lara and her music.