Our December 2021 Women in Jazz Media magazine is now live!
23rd December 2021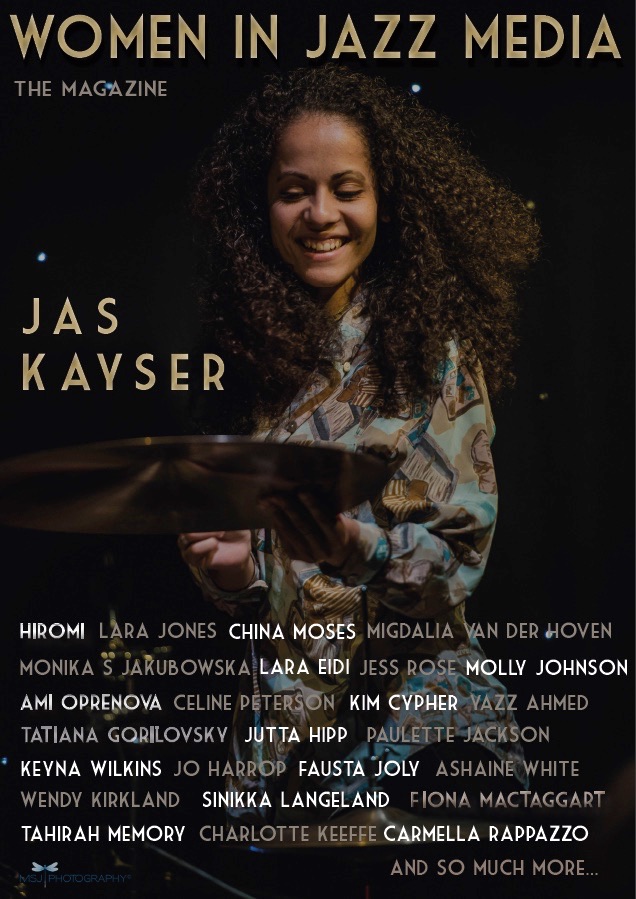 We are thrilled to publish our second Women in Jazz Media magazine! Click here
2021 has been an incredible year for us at Women in Jazz Media and since the publication of our first magazine in March, celebrating International Women's Day, we have been immensely honoured to work with and support a huge range of inspirational women. It has been a huge challenge to decide on the content for this, our second magazine, which in many ways is a wonderful problem to have. There are so many women across the world, that we want to support and shout about and in fact do so on all of our social media channels as much as we can.
The front cover of our last magazine featured the legendary Dee Dee Bridgewater, photographed by Tatiana Gorilovsky, celebrating the continuing legacy of powerful, independent women in the jazz world. For this edition, we feature Jas Kayser on our cover to celebrate not only the growth of the new generation of powerful jazz women but the increased platforms now being given for female instrumentalists. The cover photo was taken by Monika S Jakubowska, the only female photographer for the world-famous Ronnie Scott's Club in London. Photography has been a focus for us this year and we were thrilled to help facilitate the inclusion of the first female photographers in the National Jazz Archives in the UK– Tatiana Gorilovsky and Monika S Jakubowska.  You will find this magazine filled with their stunning captures along with Jess Rose who we were thrilled to work with at our LGBTQ+ event organised by Jess's wife Lara Jones, as part of the London Jazz Festival. This trio of inspirational photographers fill this magazine with beauty, joy and truth.
I hope you enjoy our second magazine and its purpose - to highlight a very small selection of incredible women working in the jazz industry. This magazine is interactive, so do click away and it will take to you the artists pages. Please do support their work.