New podcast series: Sticks and Thrones with Migdalia Van Der Hoven
30th April 2022
#womeninjazzmedia #Sticksandthrones#podcast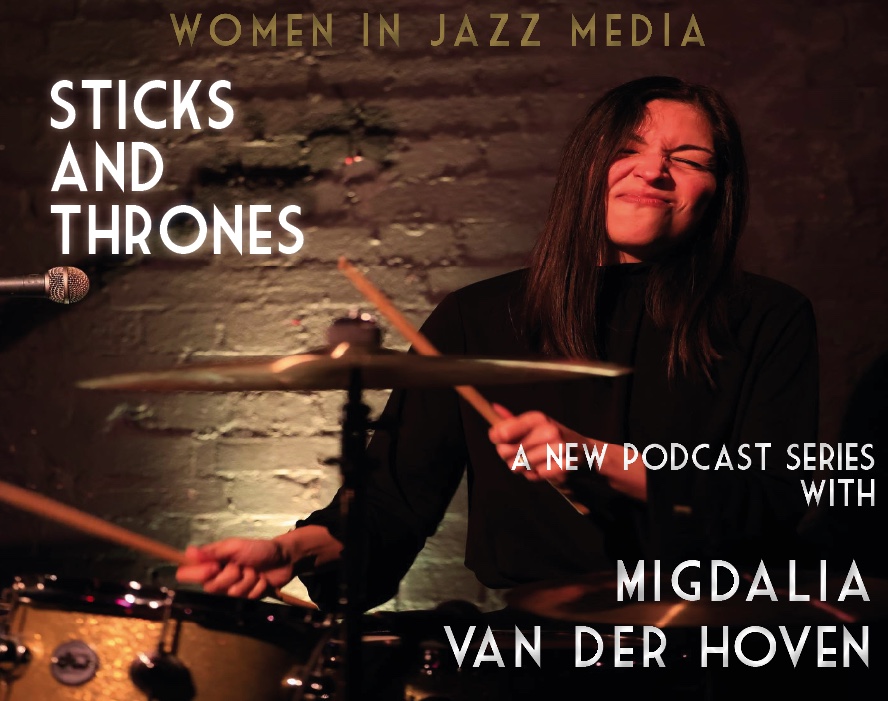 We are excited to be launching a series of new podcasts focusing on instrumentalists starting with 'Sticks and Thrones' with guest host Migdalia van der Hoven! Migdalia will be chatting a fantastic line up of drummers from across the world. Stay tuned for our first episode coming in May!
Migdalia van der Hoven is an International Award-winning Mexican drummer currently touring with SIX the Musical across the UK. She is also a Vater Drumsticks, Bosphorus Cymbals and RTOM Corporation artist. She is a Berklee College of Music graduate (where she studied and performed with Jackie Santos, Terri Lynn Carrington, Victor Mendoza and Mark Walker). She is known for her groove, sensitivity and versa1lity across multiple genres such as funk, jazz, fusion, la1n jazz, pop and world music.
Together with her latest project "The Migdalia van der Hoven Quartet", she launched her new EP "Girl Facing South" with a series of dates in and around London including the EFG London Jazz Fes1v- al 2021, Ronnie Scott's Jazz Club, Toulouse Lautrec, Pizza Express Live and more. The EP comprises a mix of original and West Coast fusion tracks and has already received posi1ve reviews from Grammy Award winning ar1sts.
Migdalia has performed in the UK with Scott Stroman, Adam Glasser, Grifter Kid and The Midnight Raiders, Russell Brand, Paul Ettinger (Caffe Nero), The All Souls Orchestra, Women in Jazz and on the BBC/ITV. She was part of the Beantown Jazz Fes1val in the USA and is currently a member of the Na- 1onal Jazz Orchestra of Mexico where she performs and also supports young women through scholarships to continue their studies in jazz. She also offers masterclasses internationally.
Migdalia has more than 25 years of experience and she is currently associated with Women in Jazz Media, Caffe Nero and Talentbanq.
Her latest EP ("Girl Facing South") was launched at Ronnie Scott's Jazz Club in August 2021 and is now available on all digital platforms. She became the first Mexican Female drummer to ever per- form at Ronnie Scott's and the EFG London Jazz Fes1val. Migdalia has become "Woman of the year 2022" in Mexico in arts and culture for her contribu1on in music na1onally and internationally.
*Migdalia will perform at the Cornbury Fes1val 2022, Prom Praise at the Royal Albert Hall with the All Souls Orchestra and will be one of the UK judges for Hit like a Girl Contest 2022, which is the biggest female drum/beats contest worldwide.