New podcast series: Sticks and Thrones with Migdalia Van Der Hoven
8th July 2022
#womeninjazzmedia
#podcast#drummers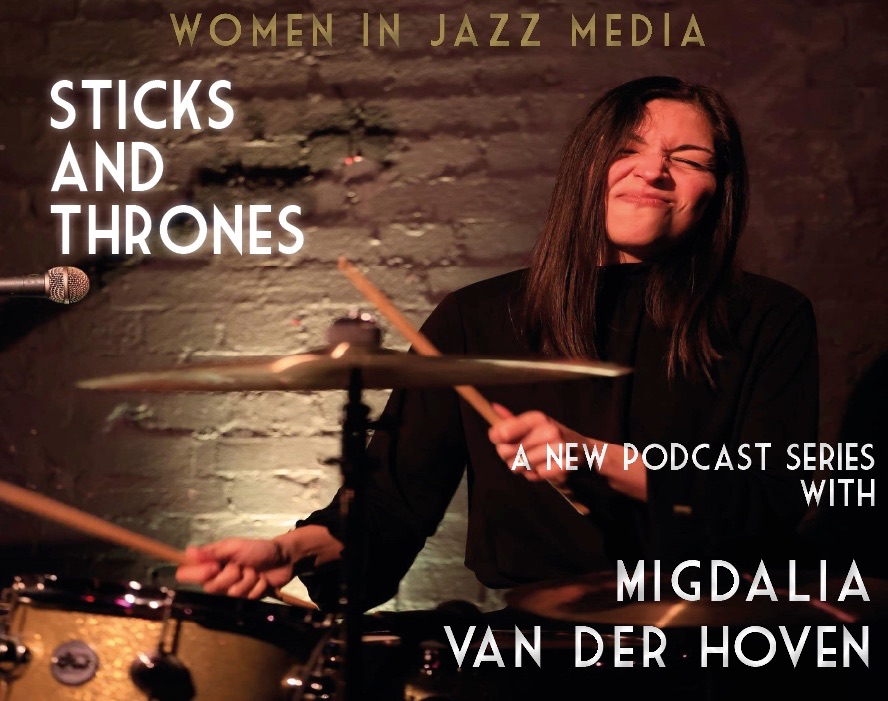 Excited to launch a brand new podcast series 'Sticks and Thrones' with guest host Migdalia Van Der Hoven. Migdalia's first guest is British drummer Ciara Chinniah and the episode is available here with music 'Girl Facing South' by Migdalia!
Migdalia van der Hoven is an International Award winning Mexican drummer currently touring with SIX the Musical across the UK. She is also a Vater Drumsticks, Bosphorus Cymbals and RTOM Corporation artist and a Berklee College of Music graduate (where she studied and performed with Jackie Santos, Terri Lynn Carrington, Victor Mendoza and Mark Walker). She is known for her groove, sensitivity and versatility across multiple genres such as funk, jazz, fusion, latin jazz, pop and world music. She became the first Mexican Female drummer to ever perform at Ronnie Scott's and the EFG London Jazz Festival. Migdalia has become "Woman of the year 2022" in Mexico in arts and culture for her contribution in music nationally and internationally. Migdalia's Website
Ciara Chinniah is a British Drummer and Educator from Essex in the UK.
With a love of Odd Time signatures, Ciara has been described as a Pop/Rock drummer with a progressive/fusion edge. Upon graduating from the ACM, Ciara has played many theatre shows, performed in bands across the UK, Europe and America. Everything from folk, fusion and blues to Rock, pop and metal! Aside from ACM, Ciara went on to study intensively at LAMA in LA under Ralph Humphrey and Joe Porcaro. Subsequently she returned and studied with the great Jazz drummer Bob Armstrong. Ciara currently has a busy schedule, teaching and recording from her home studio in Essex.
She is the co-host of the Podcast 'Drum Education Live' and 'Drummer Mamas' a podcast opening up the conversation about juggling parenthood and a career in drums.Ciara plays for Electro Pop duo The Penelopes who regularly gig in Paris and London. Whilst she explores her love of odd meters with her band Red Monster and on her social media. Ciara endorses NickyMoon cymbals. Ciara's website