In Conversation with...Collette Cooper
21st July 2022
#womeninjazzmedia
#podcast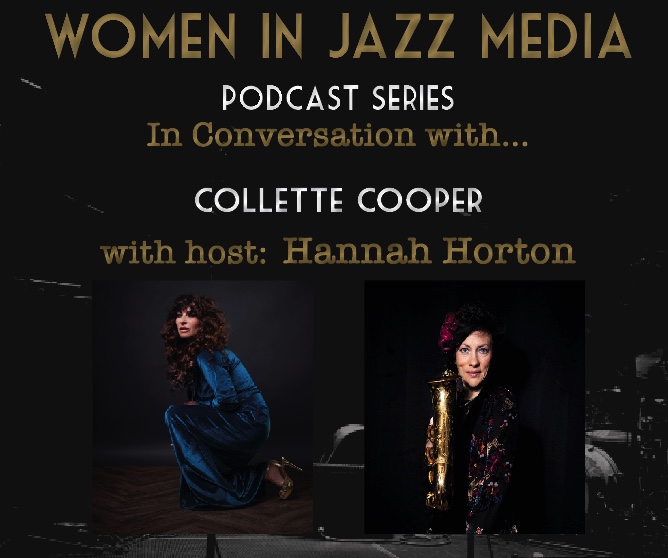 Welcome to our 13th episode of 'In Conversation With' featuring music from Hannah Horton! You can now find our podcasts in the top 60 Best Jazz Podcasts in FeedSpot! In this episode, host Hannah Horton welcomes our special guest British singer-songwriter, actor, podcast host and all-round artist extraordinaire Collette Cooper. You can listen here
 Collette Cooper is a critically acclaimed artist signed to the independent label Thelonious Punk Records championed by BBC Introducing, BBC Radio 2, BBC Radio 6 Music, Soho Radio and Jazz FM. Her influences go back as far as Bessie Smith, Sister Rosetta Tharpe, Nina Simone, Kurt Weill, and Billie Holiday. 
​Collette is difficult to fit into any box – she has a unique sound of her own. Her music is eclectic with dramatic, dark, and sometimes theatrical tones, with a strong blues and jazz influence. Her truly unique style and visually captivating performance leave audiences enchanted and wanting more with her raspy, hauntingly unique vocals.
Her vocal style is often described as 'Janis Joplin channeling Edith Piaf with a sprinkling of Esther Phillips'. Her original work is timeless yet fresh, and her versions of covers are unlike anything else you've ever heard, she completely makes them her own. Collette plays at all major venues in and around London with sold-out performances at the Jazz Café, the Blues Kitchen, The 100 Club, The Roundhouse, The Piano Bar Soho, amongst others.
Alongside her musical and acting career, Collette is also an activist. She currently has a piece of her artwork in The Now Exhibition curated By Leah Wood. An exhibition bringing awareness to the current climate and helping raise money for Drop4Drop charity. Collette has performed for Samuel l Jackson's charity One For The Boys at Abbey Road Studios recently performed for Vivienne Westwood's Cool Earth charity in an effort to save the planet and is an ambassador for the Nordoff Robbins Music Therapy Charity. She recently performed a gala night in their honor at the Grosvenor House Hotel alongside KT Tunstall and Texas. Collette is also a proud ambassador for the Wild at Heart Foundation, a London-based dog rescue charity.