Kim Cypher's 'Brighter Tomorrow' – A Tribute to The Arts
31st October 2022
#brightertomorrowforthearts
#kimcypher
#magazine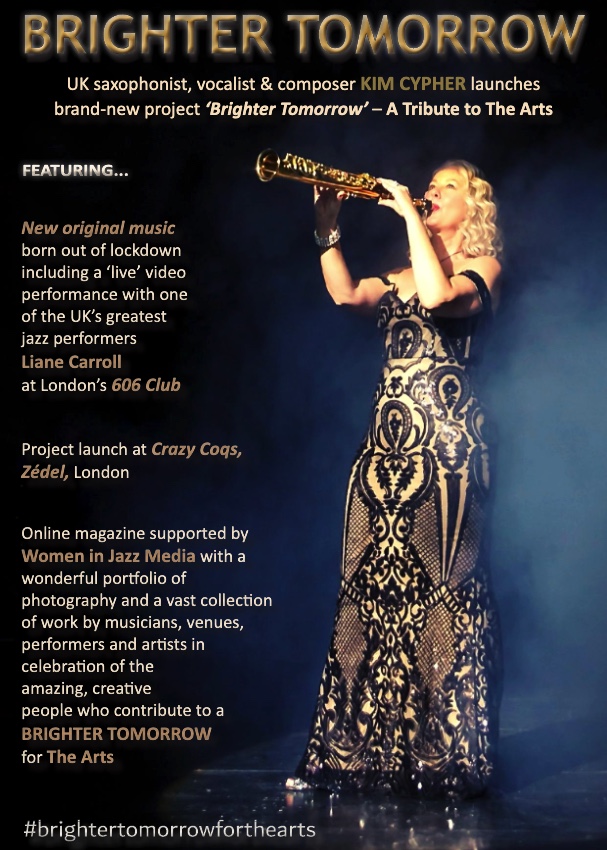 UK saxophonist, vocalist, composer and Women in Jazz Media team member Kim Cypher presents 'Brighter Tomorrow' – A Tribute to The Arts.
A wonderful collaborative celebration of amazing creative people who demonstrate incredible passion, drive, determination and dedication to their Art, ultimately contributing to our #brightertomorrowforthearts
Click here to view the magazine
Kim Cypher:
"I have never felt more pride being a musician than I do right now. Choosing to work in The Arts is a labour of love. When creativity is in your heart and soul, there is no other path in life that offers comparable fulfilment and reward. The sense of unity and joy of connection and communication with an audience is a truly beautiful thing.
When COVID-19 hit the world, taking all of this away so unexpectedly and brutally, The Arts experienced an overwhelming sense of loss and sadness. Initial numbness and shock led to grief and despair as our identity and purpose in life vanished overnight.
 But, driven by creativity, passion, commitment, compassion, willpower and sheer determination, The Arts kicked back into action big-time with a united effort and dedication to ensure 'The show must go on!'
Finding and adapting to new ways, performances and creativity continued, maintaining morale, keeping people connected, providing positive support and company for those feeling isolated and alone as well as channelling emotions into new creative projects.
So many unsung heroes dedicated and devoted to their work, a real sanctuary of positivity. It fills me with such joy and pride to be part of an amazing, caring community, which has led me to this project –
'Brighter Tomorrow' – A Tribute to The Arts and a celebration of like-minded creatives."
The project features:
New original music by Kim Cypher, born out of lockdown including a 'live' track and video with one of the UK's greatest jazz performers Liane Carroll at London's 606 Club; 'Live' project launch at Crazy Coqs, Zédel, London; Plus, the whole project is consolidated into an online magazine supported by Women in Jazz Media with a wonderful portfolio of photography and a vast collection of work by musicians, venues, performers and artists in celebration of the amazing, creative people who contribute to a BRIGHTER TOMORROW for The Arts. The magazine explains the background behind the project and brings everything together including a celebration of venues and live performances plus special thanks and recognition to some amazing creative people who have left a lasting impression on Kim's life and who ultimately, inspired Kim to lead her very best life.
A project driven by absolute pride in The Arts and a commitment to celebrate EVERYONE who is contributing to our #brightertomorrowforthearts