In Conversation with...Faye Patton
1st January 2023
#womeninjazzmedia
#podcast
#fayepatton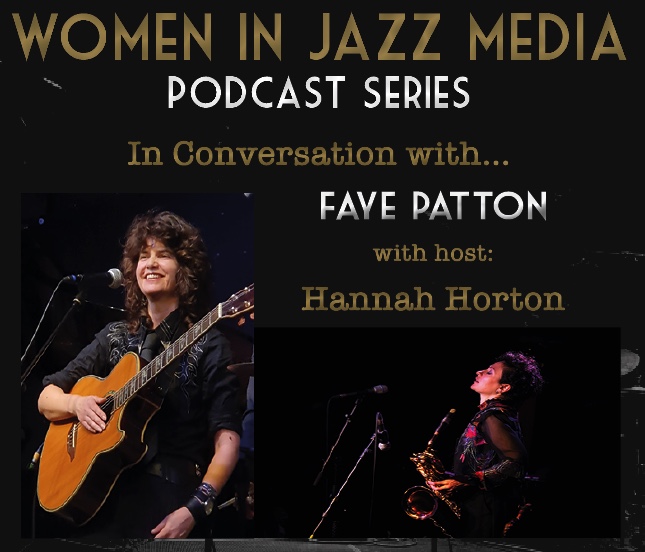 Welcome to our latest episode of 'In Conversation With' featuring music from Hannah Horton! You can find our podcasts at number 9 in the top 60 Best Jazz Podcasts in FeedSpot! In this episode, host Hannah Horton welcomes our special guest, Faye Patton. You can listen here
 Faye is a singer-songwriter, pianist and classically trained guitarist - she writes original songs in jazz idiom which combine jazz, funk, pop, folk, gospel and blues influences with a classic sound that recalls the great Jazz divas of the past. Her vocals, (with a register that stretches to heights, depths and lengths that make audiences gasp) have been compared to Judy Garland and Joni Mitchell. Her prodigious piano playing has been compared to Ray Charles and Horace Silver. A powerful lyricist and prodigious producer of 5 independent releases, her songs contain an inspirational LGBT flavour rarely seen on the jazz scene. She is currently the resident in house musician at art deco cocktail jazz venue Bermondsey Arts Club.
Faye has gigged regularly in and around the London over the last 20 years. Venues include: Soho Theatre Piano Bar, Ray's Jazz, Upstairs at Ronnie Scott's, Stratford Theatre Royal, Upstairs at The Ritzy Cinema, The Vortex, The Green Note, The Pheasantry, Karamel Klub, Toulouse Lautrec, Caffe Concerto, E15 Jazz Sessions, Soderberg Soho, Bermondsey Arts Club. Festivals include: Isle of Wight International Jazz Divas, Derry Jazz Festival, Jazznacht Donaueshingen in Germany, Hackney Spice Festival. Faye has been featured as a guest blogger in London Jazz News and has had radio play on BBC Radio Foyle, Radio Jazz Caribe, (Venezuela) Resonance, Real Music FM, and London Jazz Radio and is featured in international jazz blogs and podcasts.
Hannah is a British Female Jazz Saxophonist whose music is rooted in jazz, folk and funk. She has performed with many great jazz artists including Ian Shaw, Amy Winehouse, John Etheridge, Tina May, Georgia Mancio, Polly Gibbons, Natalie Williams, Esther Bennett and Irene Serra; and at venues including Ronnie Scott's, Pizza Express Dean St, The 606, The Pheasantry, Love Supreme Jazz Festival, Royal Festival Hall and The Barbican. She has also toured in Europe and USA with her own and other groups. Her latest album has been going down a storm across the world.
"Hannah makes the big beast of a baritone sax sound like an angel" – Ian Shaw