Hannah Horton in conversation with Romarna Campbell
30th January 2023
#podcast
#womeninjazzmedia
#inconversation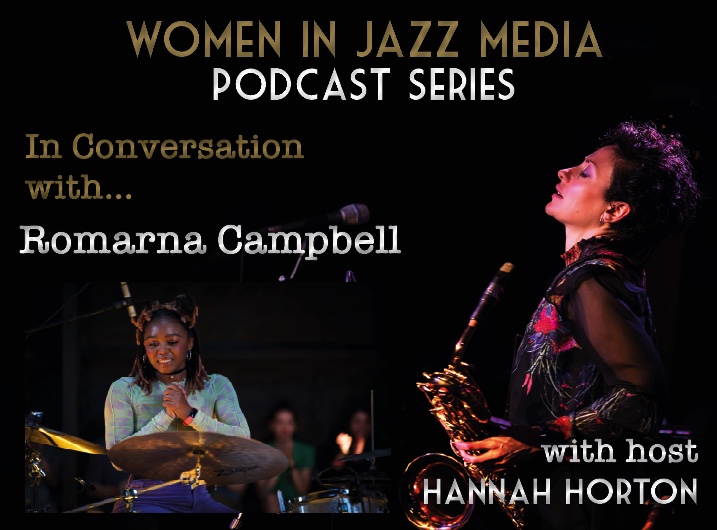 Welcome to our latest episode of 'In Conversation With' featuring music from Hannah Horton! You can find our podcasts at number 9 in the top 60 Best Jazz Podcasts in FeedSpot! In this episode, host Hannah Horton welcomes our special guest, Romarna Campbell! You can listen here
Romarna's musical storytelling begins with the drums. The nomadic spirit of this exciting drummer, producer and composer lives in her jazz and hip hop-infused music. Her irrepressible energy can be heard on Inherently Political, a super-charged sonic assault on racism that immediately won favour with Anne Frankenstein, Jazz FM's Tony Minvielle and had her crowned by Jamz Supernova as New Name of the Week. 
Her independently released kaleidoscopic debut 25 Songs For My 25th Birthday features Soweto Kinch, Tomeka Reid, Sumi Tonooka and Lady Sanity and takes us deeper into her world of resonant frequencies and conscious vibrations. Having honed her craft with Berklee College of Music, Tomorrow's Warriors and the Notebenders, Romarna stands on the shoulders of giants and is drawing inspiration from the view as she beats a path forward that is very much her own.
Hannah is a British Female Jazz Saxophonist whose music is rooted in jazz, folk and funk. She has performed with many great jazz artists including Ian Shaw, Amy Winehouse, John Etheridge, Tina May, Georgia Mancio, Polly Gibbons, Natalie Williams, Esther Bennett and Irene Serra; and at venues including Ronnie Scott's, Pizza Express Dean St, The 606, The Pheasantry, Love Supreme Jazz Festival, Royal Festival Hall and The Barbican. She has also toured in Europe and USA with her own and other groups. Her latest album has been going down a storm across the world.
"Hannah makes the big beast of a baritone sax sound like an angel" – Ian Shaw