Hannah Horton in conversation with...Lara Eidi
26th February 2023
#womeninjazzmedia
#podcast
#laraeidi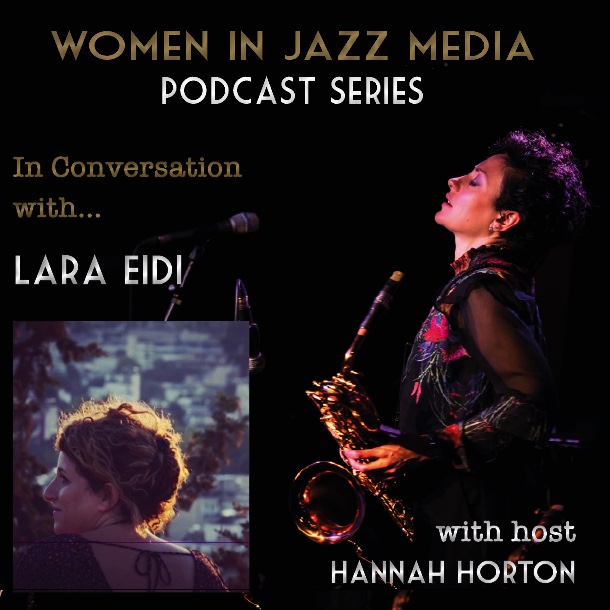 Welcome to our latest episode of 'In Conversation With' featuring music from Hannah Horton! You can find our podcasts at number 9 in the top 60 Best Jazz Podcasts in FeedSpot! In this episode, host Hannah Horton welcomes our special guest, Lara EidiAvailable on Spotify Apple Anchor and more!
Lara Eidi is an artist that thrives on being different.  Born in Athens Lebanese- Canadian parents, her entire life and career is that of a  singer- songwriter , multidisciplinary artist, educator and writer. Undefined by style, Lara's music has earned her own unique place in the music world as a storyteller, jazz and folk singer, composer and recording artist heard at venues in London including the Barbican, St Martins in the Fields, Green Note, Edinburgh Festival, Beirut International Festival to name a few. Born in Athens  to Lebanese-Canadian parents, her music has gained her critical acclaim as an artist with a truly unique voice (BBC Artist, 2020- 2021), who manages to shift between musical styles and vocations owed to her diverse background as a singer ( Guildhall School of Music and Drama ) ; writer ( English Literature from the University of St. Andrews) and educator. Lara's passion and artistry comes from a pure and authentic drive to connect with audience members as well as students, creating a space where the healing power of music can be felt by all.  Recently supported by Hawkwood College and the Francis W Reckitt Arts Trust, Lara is set to record her new album in Spring 2023, and has just launched her very first podcast on songwriting ' The Notes Between' with Women in Jazz Media.  Finally, her passion for music as a life choice has led her to become an in demand educator , offering workshops at leading music institutions as well as community spaces in Europe. 
"Lara Eidi is one of those singers who connects with the audience as soon as she starts to sing. Perhaps psychologists can explain the gift – and it is a gift "Sandy Brown Jazz- London
Hannah is a British Female Jazz Saxophonist whose music is rooted in jazz, folk and funk. She has performed with many great jazz artists including Ian Shaw, Amy Winehouse, John Etheridge, Tina May, Georgia Mancio, Polly Gibbons, Natalie Williams, Esther Bennett and Irene Serra; and at venues including Ronnie Scott's, Pizza Express Dean St, The 606, The Pheasantry, Love Supreme Jazz Festival, Royal Festival Hall and The Barbican. She has also toured in Europe and USA with her own and other groups. Her latest album has been going down a storm across the world.
"Hannah makes the big beast of a baritone sax sound like an angel" – Ian Shaw