In Conversation with...Betty Accorsi
11th April 2023
#womeninjazzmedia
#podcast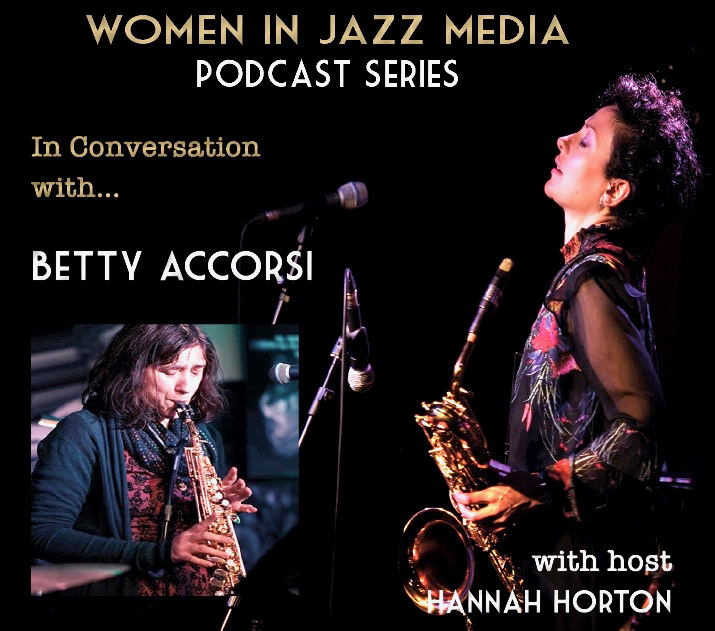 Welcome to our latest episode of 'In Conversation With' featuring music from Hannah Horton! You can find our podcasts at number 9 in the top 60 Best Jazz Podcasts in FeedSpot! In this episode, host Hannah Horton welcomes our special guest, Betty Accorsi ahead of her performance at our final residency night at Jazz Café Posk, London. Tickets available here
 You can listen to the podcast here
I am an Italian saxophone player, multi-instrumentalist and composer, and my home is currently in the United Kingdom. I studied classical saxophone, piano and composition at the Giuseppe Verdi Conservatoire in Milan. I was involved in projects spanning from contemporary music ensembles with composer Salvatore Sciarrino to the progressive rock band Psicosuono, which released two albums (Eta Carinae, Metropoli).
In 2018, I moved to London and started an MMus in Jazz Saxophone at Trinity Laban Conservatoire with a scholarship. Trinity's academic environment included leaders in the London jazz scene such as saxophonist Jean Toussaint and composer Bruno Heinen. Searching for a more open-ended approach to artistry and composition, I moved to Goldsmiths University of London in 2019, completing my Master's degree in Performance under the guidance of Mick Foster, Paul Bartholomew and Dr Pete Furniss. I graduated with a distinction presenting a programme of electronic rearrangements of classical music for soprano saxophone and Ableton Live and a jazz quartet performance.    

My main project is the Betty Accorsi Quartet. This was founded with pianist Finn Carter and drummer Scott MacDonald; they were the finest musicians in my year at Goldsmiths and very popular in the South East of London. We are joined by in-demand bassist Andy Hamill (Van Morrison, Martin Taylor, Ibrahim Maalouf). In December 2020 we released "The Cutty Sark Suite", an album of my compositions blending Wayne Shorter, folk and punk. The Quartet was also part of 2021 Brighton Fringe Festival, playing The Cutty Sark Suite in its entirety on a live-streamed gig.  Our second album "Growing Roots" was be released on the 15th July 2022 featuring pianist Daniel Hewson (Groove Armada, Madonna, Incognito), Scott MacDonald on drums and Andy Hamill on bass.
 Hannah is a British Female Jazz Saxophonist whose music is rooted in jazz, folk and funk. She has performed with many great jazz artists including Ian Shaw, Amy Winehouse, John Etheridge, Tina May, Georgia Mancio, Polly Gibbons, Natalie Williams, Esther Bennett and Irene Serra; and at venues including Ronnie Scott's, Pizza Express Dean St, The 606, The Pheasantry, Love Supreme Jazz Festival, Royal Festival Hall and The Barbican. She has also toured in Europe and USA with her own and other groups. Her latest album has been going down a storm across the world.
"Hannah makes the big beast of a baritone sax sound like an angel" – Ian Shaw