Hannah Horton in conversation with...JAM String Collective
29th April 2023
#podcast
#womeninjazzmedia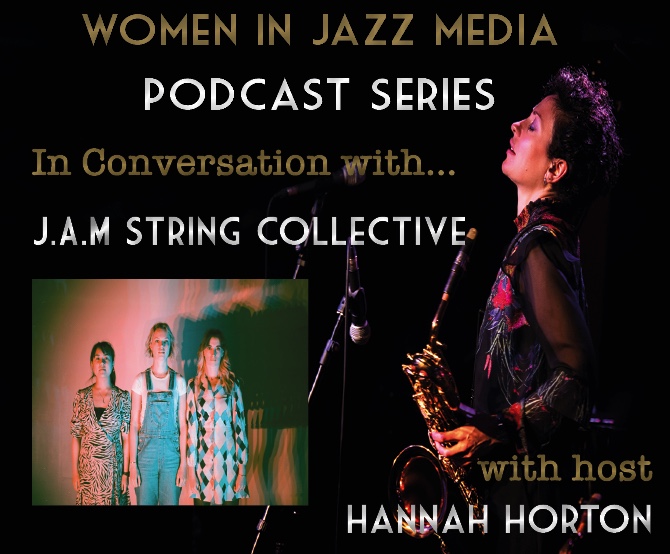 Welcome to our latest episode of 'In Conversation With' featuring music from Hannah Horton! You can find our podcasts at number 9 in the top 60 Best Jazz Podcasts in FeedSpot! In this episode, host Hannah Horton welcomes our JAM Collective! Listen here
 J.A.M. STRING COLLECTIVE is an exciting new contemporary jazz string trio, playing their own re-imaginings of works by jazz heavyweights, such as Ornette Coleman, Thelonious Monk and Kenny Wheeler, alongside their own compositions. Their arrangements leave space for moments of freeness, with a heavy focus on interaction and improvisation.The trio features Annalise Lam (violin), Julia Dos Reis (viola), and Miranda Lewis-Brown (cello).
Julia and Miranda met in 2015 through Gary Crosby's (OBE) Tomorrow's Warriors Jazz String project, String Ting, with whom they have gigged extensively across the UK and Europe. They have toured with larger Warrior ensembles such as Peter Edward's Nu Civilisation Orchestra, and Jazz Jamaica, as well as played their own gigs - as a trio and quartet - in venues such as Ronnie Scott's, Pizza Express Club Soho, The Purcell Room SBC. In 2019 they supported legendary saxophonist, Steve Williamson, in a UK tour.
In more recent years Annalise also joined the larger collective of String Ting, first meeting Julia at a Warrior's workshop led by jazz violinist extraordinaire, Benet McClean. Julia and Annalise struck up a relationship which continued through their Masters studies at Guildhall, where they would often meet to jam ideas, many of which have continued into J.A.M.
Tickets for May 5th event here
Hannah is a British Female Jazz Saxophonist whose music is rooted in jazz, folk and funk. She has performed with many great jazz artists including Ian Shaw, Amy Winehouse, John Etheridge, Tina May, Georgia Mancio, Polly Gibbons, Natalie Williams, Esther Bennett and Irene Serra; and at venues including Ronnie Scott's, Pizza Express Dean St, The 606, The Pheasantry, Love Supreme Jazz Festival, Royal Festival Hall and The Barbican. She has also toured in Europe and USA with her own and other groups. Her latest album has been going down a storm across the world.
"Hannah makes the big beast of a baritone sax sound like an angel" – Ian Shaw