The Notes Between with Lara Eidi and Kate Smith
13th October 2023
#thenotesbetween
#podcast
#womeninjazzmedia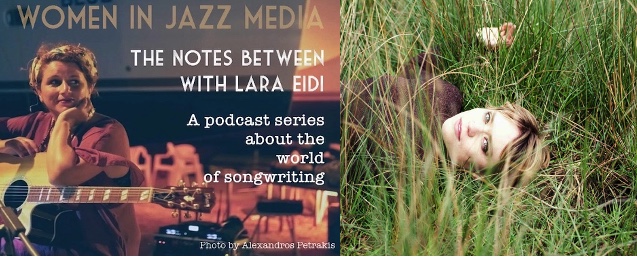 Welcome to the third episode of our podcast series' The Notes Between' with Lara Eidi. Conversations exploring everything behind and about the world of songwriting! Our theme music 'Opened Eyes' is from Lara Eidi herself available here
In this third episode, Lara talks to songwriter Kate Smith. Available on Spotify Apple and Anchor
Once declared the "singing madame" of Beijing's cabaret scene (Global Times), Kate Smith has travelled the globe, crossing borders and musical genres alike, continually defying labels. With experience performing professionally in classical, folk, pop rock, improvisation, musical theatre and more, Kate eventually landed in London, studying classical singing and earning her MMus in Leadership at Guildhall School of Music and Drama, where she also began developing The Embodied Voice. Since then, Kate has become an in-demand performer and maker in British vocal theatre. She is passionate about transforming our relationship to the body by creating music - and facilitating collective music-making - for voices and bodies in motion.
Kate's practice draws on many influences including yoga, Alexander Technique, Feldenkrais Method®, Body-Mind Centering®, mindfulness, contact improv, dance, and theatre. She has studied with Meredith Monk, Bonnie Bainbridge-Cohen (BMC), Seke Chimutengwende, Robert Sussuma (Vocal Learning Systems), Margaret Pikes (Roy Hart Theatre), Grzegorz Braal (Song of the Goat), Guillermo Horta (VABAS), and more. She is a 200hr Yoga-Alliance certified teacher of Authentic Flow Yoga. She earned her Guildhall Certificate in Coaching & Mentoring, Accredited by the European Mentoring & Coaching Council in 2019.
Kate specialises in projects that bring together movement, voice, and improvisation. She is a cast member of Verity Standen's acclaimed Undersong and Artistic Director of THAT! Ensemble. She has performed in singer-instrumentalist opera (Re:Sound Music Theatre), choral street theatre (Totally Themes), folk opera (Spitalfields Music) and more. She improvises with The Improvisers' Choir (TIC), electro-acoustic trio AR|RA, and vocal collective, Anthropos. She is also a founding member of El Parnaso Hyspano, performing early music from Latin America. Kate is currently working on writing a song cycle for voice and movement, Songs from the Body.
Kate has taught workshops on creative music and The Embodied Voice for a range of communities and clients, working with participants in hospitals, mental-health centres, prisons, schools, conservatories and art galleries. Her clients have included BBC Creative Learning, Guildhall School of Music and Drama, The Barbican Creative Learning, CREATE, Harvard University, Whitechapel Gallery, Aldeburgh Young Musicians, Found Sound Nation, and more. She provides voice and movement consultation for dance and theatre companies, and was the director of Hackney One Voice, an inter-generational community choir. As the founder of Curiosa, Kate has led residencies and workshops on cross-arts collaboration in China, Portugal and Malta. 
Lara Eidi is an artist that thrives on being different.  Born in Athens Lebanese- Canadian parents, her entire life and career is that of a singer-songwriter , multidisciplinary artist, educator and writer. Undefined by style, Lara's music has earned her own unique place in the music world as a storyteller, jazz and folk singer, composer and recording artist heard at venues in London including the Barbican, St Martins in the Fields, Green Note, Edinburgh Festival, Beirut International Festival to name a few. Born in Athens to Lebanese-Canadian parents, her music has gained her critical acclaim as an artist with a truly unique voice (BBC Artist, 2020- 2021), who manages to shift between musical styles and vocations owed to her diverse background as a singer ( Guildhall School of Music and Drama ) ; writer ( English Literature from the University of St. Andrews) and educator. Lara's passion and artistry comes from a pure and authentic drive to connect with audience members as well as students, creating a space where the healing power of music can be felt by all.  Recently supported by Hawkwood College and the Francis W Reckitt Arts Trust, Lara is set to record her new album in Spring 2023, and has just launched her very first podcast on songwriting 'The Notes Between' with Women in Jazz Media.  Finally, her passion for music as a life choice has led her to become an in demand educator, offering workshops at leading music institutions as well as community spaces in Europe. 
"Lara Eidi is one of those singers who connects with the audience as soon as she starts to sing. Perhaps psychologists can explain the gift – and it is a gift "Sandy Brown Jazz- London