The Notes Between with Lara Eidi and Ashaine White
3rd November 2023
#podcast
#notesbetween
#womeninjazzmedia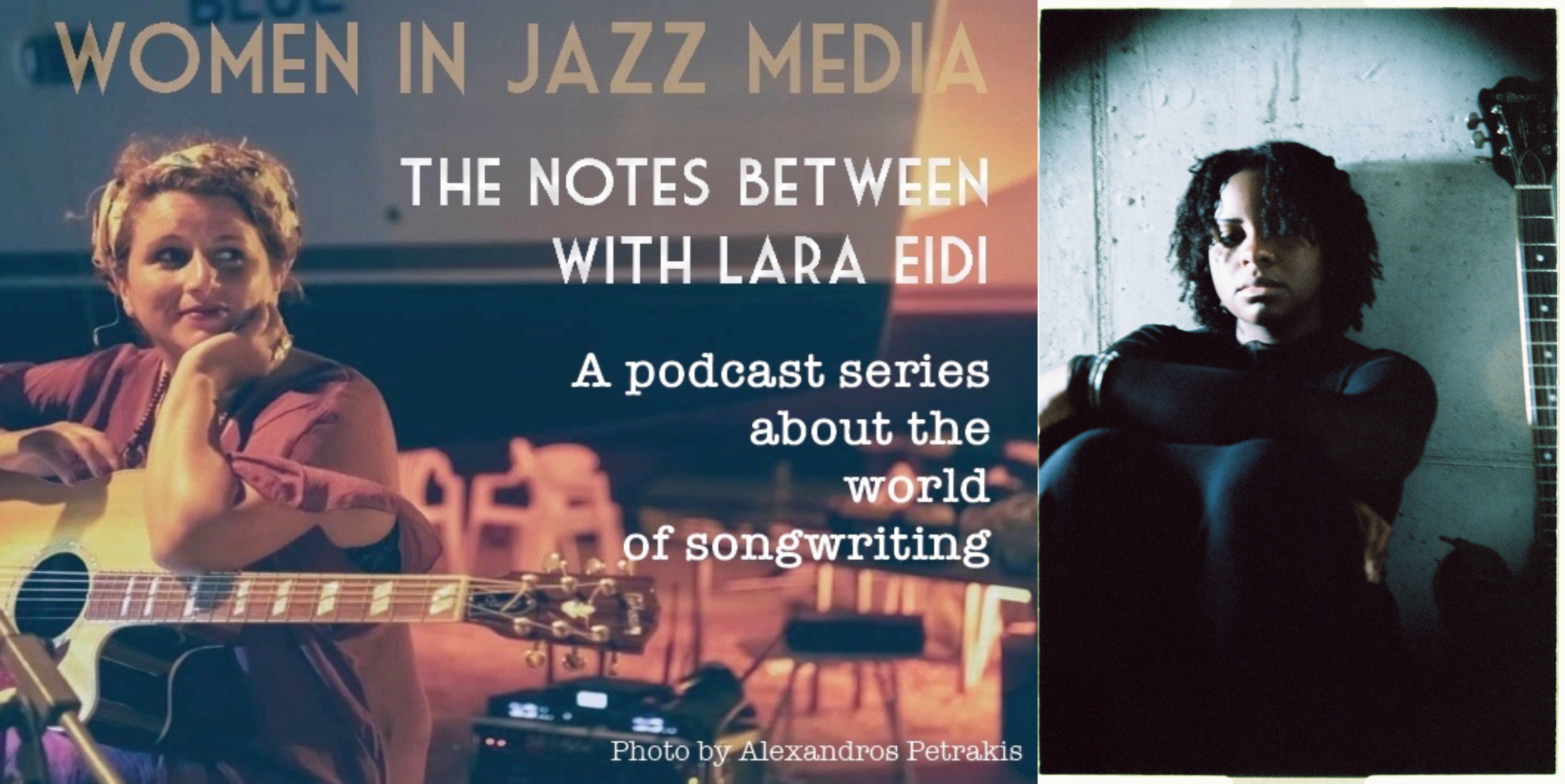 Welcome to the fourth episode of our podcast series' The Notes Between' with Lara Eidi. Conversations exploring everything behind and about the world of songwriting! Our theme music 'Tide is from Lara Eidi herself available here
In this episode, Lara talks to songwriter Ashaine White. Available on Spotify Apple and Anchor
Ashaine White is a rising star in the UK music scene, already nominated for a 2022 Ivors Academy Rising Star award, she is one to watch. With a critically acclaimed project (Fairytales, 2021) under her belt, Ashaine has quickly become a sought-after artist, receiving support from some of the top radio stations in the country (BBC Radio 1 Xtra, BBC Introducing London, Soho Radio, Reprezent Radio, and Voices Radio). Her highly anticipated second project, "Ash," was released in the summer of 2023 and was highlighted in Bandcamp's New and Notable Spotify's Fresh Finds and Soundclound's Fresh Pressed.
Ashaine's uniquely authentic blend of genre and fearless approach to songwriting has garnered praise from music critics and fans, drawing comparisons to Frank Ocean, PJ Harvey and Jeff Buckley. A captivating voice, raw lyrics, and genre-bending soundscapes have set her apart as one of the most exciting new artists in the UK. Live performance is vital to Ashaine's artistry,  performing at various prestigious venues, including the Roundhouse, Jazz Cafe, Camden Assembly, EFG London Jazz Festival, Ronnie Scotts, Wilderness Festival, and Love Suprme Festival. Her live performances have garnered her a loyal following and are a pillar to Ashaine's artist brand. "Ashaine White is a fierce and formidable artist making a significant impact in the music industry. she is on a mission to break barriers within UK music, showcasing herself as an Black creator in an alternative space – and breaking them down she absolutely is, not just in the UK but across the world."
With critical acclaim and support from respected figures in the industry, it's clear that Ashaine White is an artist to watch in the coming years. A unique sound and unwavering dedication to her craft promise to make her a force to be reckoned with in the music world.
"Ash is a bold and intimate statement about being true to oneself from an exciting rising artist carving her own path." - Khalila Douze (Bandcamp)
An award -winning self made artist born in Athens to Lebanese Canadian parents. Multi-instrumentalist, storyteller, singer, composer and also a freelance music journalist, workshop leader and educator…the list of Lara's skills is long, as has been her music career.
Lara discovered music at an early age – playing the piano and singing – and started performing from the age of 11 with the Greek National Opera Productions. She earned a Masters in Jazz Voice Studies with distinction from the Guildhall School of Music and Drama in London and completed a Degree in English Literature at the University of St Andrews. She has performed in some of the most renowned London venues – from St Martins in the Field to the Barbican, as well as Pizza Express Dean Street and the London Jazz Festival, Beirut International Festival, Edinburgh Fringe Festival, to name but a few – but also internationally, from her hometown of Athens to the Beirut International Festival. On stage, Lara doesn't only sing but also plays the piano, the guitar and leads entire bands. Whilst collaborating with some of London's acclaimed musicians across the jazz and folk scenes, she has self-released two EPs ('Little People' and 'Tell It Like It Is') and, during the pandemic, launched and founded her own teaching platform, "Phonica Music Coaching", through which she shares the important message of healing through music. This is also the essence of her music. All this wealth of experience converges into her album 'Sun', which incorporates Lara's many talents as composer, musicians, singer and arranger, through stories of hope and empowerment.
The liner notes to 'Sun' were written by the Award winning jazz artist, writer, Recording Academy Voting member and our very own Women In Jazz Media Chief Fiona Ross. She writes: "Music is an omnipotent tool. It has the potential to strengthen and empower. To bring light where there is dark. To calm the mind and soothe the soul. But these almost magical moments of connectivity can only be realised if placed in the right hands. Lara Eidi. Is those hands".' "Lara Eidi is an artist that thrives on being different, with a voice that's clearly a gift "( Sandy Brown Jazz)
She's collaborated with some of London's finest musicians across the jazz and folk scenes, often switching roles between standing upstage as a versatile and engaging singer, to leading an entire band whilst sitting at the piano and singing.   Recently supported by Hawkwood College and the Francis W Reckitt Arts Trust, and about to release her biggest album to date ' Sun', Lara's talents and gifts saw her launching her own podcast series focused on songwriting with special guests- "The Notes Between" is supported by Women in Jazz Media.  This came shortly after she took up freelance music journalism during the pandemic, becoming a writer for Women in Jazz Media, London Jazz News, BackseatMafia .  Finally, her passion for music as a life choice has led her to become an in-demand educator, offering workshops at leading music institutions as well as community spaces in Europe. As if that wasn't enough she launched and founded her own teaching platform " Phonica Music Coaching " during the pandemic, leading music sessions across the globe to people who needed an alternative method of healing; after all, it was music that led Lara to engage time and time again, and at the heart of her creativity is a need to make her personal experiences relatable to all, through her music.
Now residing between Athens and London, and a new album underway, "Sun" has already gained critical global acclaim from award winning journalists and she was just nominated for songwriter of the year by the renowned Orpheus Global Music Awards.